Exfoliating Soap Pocket Squares, Soap Pouch Body Scrubber for 5oz Bar or Leftover Soap Bits, 3 Pack
✔️Effective Exfoliation! ✔️Great as a foot scrubber or loofah body scrubber! ✔️Exfoliating Can Help to Reduce Acne breakouts, Even Skin Tone and Boost Circulation, Sweep Away Dead Skin Cells, Revealing Fresh New Glowing Skin! - Prepares Your Skin for After Shower Skin Care Regimen!
✔️Soap Bag and Exfoliating Mitt in One!✔️Exfoliating Pocket Dries More Easily and Cleaner than Loofah!✔️Save On Soap by Collecting All the Little Leftover Soap Bits! Toss Them in The Pocket and Lather Away!
✔️Suitable for Adults with Rough, Dry, Flaky Skin who want a vigorous exfoliating scrub – great for feet, elbows, knees.
✔️ Made from High Quality PE Nylon ✔️ Durable and Easy to Clean ✔️Bonus Soap Lift Soap Saver Pads for storing soap between uses ✔️ Kraft Paper Packaging ✔️SIZE: 4.8" x 4.8" *Soap Not Included
✔️ We Care about Your Satisfaction! myHomeBody wants to be a brand you trust! Buy with confidence knowing that If You're not Satisfied, We'll Make it Right - Reach Out to Us!
Save Your Soap, Invigorate Your Skin!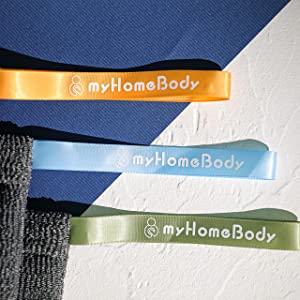 Choose Your Color!
Individually colored straps so you always know which one is yours!
Give Leftover Soap Bits New Life!
Give New Life to those Slippery Little Leftover Soap Bits! Collect them, toss them in the pocket and lather away!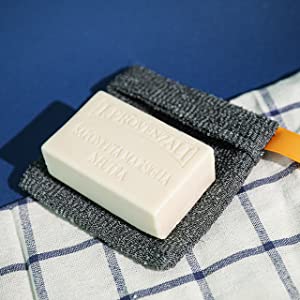 Perfect Size for 5oz Bar!
All your favorite brands' standard sized bar soaps will fit right in there!
{"id":4554552442998,"title":"Exfoliating Soap Pocket Squares, Soap Pouch Body Scrubber for 5oz Bar or Leftover Soap Bits, 3 Pack","handle":"exfoliating-sponge-soap-pocket-squares-soap-pouch-body-scrubber-for-5oz-bar-soap-or-leftover-soap-bits-body-exfoliator-sponges-for-bath-or-shower-3-pack-bonus-2-piece-soap-lift-soap-saver-pads","description":"\u003cul\u003e\n\u003cli\u003e✔️Effective Exfoliation! ✔️Great as a foot scrubber or loofah body scrubber! ✔️Exfoliating Can Help to Reduce Acne breakouts, Even Skin Tone and Boost Circulation, Sweep Away Dead Skin Cells, Revealing Fresh New Glowing Skin! - Prepares Your Skin for After Shower Skin Care Regimen!\u003c\/li\u003e\n\u003cli\u003e✔️Soap Bag and Exfoliating Mitt in One!✔️Exfoliating Pocket Dries More Easily and Cleaner than Loofah!✔️Save On Soap by Collecting All the Little Leftover Soap Bits! Toss Them in The Pocket and Lather Away!\u003c\/li\u003e\n\u003cli\u003e✔️Suitable for Adults with Rough, Dry, Flaky Skin who want a vigorous exfoliating scrub – great for feet, elbows, knees.\u003c\/li\u003e\n\u003cli\u003e✔️ Made from High Quality PE Nylon ✔️ Durable and Easy to Clean ✔️Bonus Soap Lift Soap Saver Pads for storing soap between uses ✔️ Kraft Paper Packaging ✔️SIZE: 4.8" x 4.8" *Soap Not Included\u003c\/li\u003e\n\u003cli\u003e✔️ We Care about Your Satisfaction! myHomeBody wants to be a brand you trust! Buy with confidence knowing that If You're not Satisfied, We'll Make it Right - Reach Out to Us!\u003c\/li\u003e\n\u003c\/ul\u003e","published_at":"2020-08-04T23:35:53-04:00","created_at":"2020-08-04T23:35:53-04:00","vendor":"myHomeBody","type":"Bath \u0026 Shower Accessories","tags":["bath","bathroom","exfoliate","exfoliating washcloths","shower","sponge"],"price":1399,"price_min":1399,"price_max":1499,"available":false,"price_varies":true,"compare_at_price":1499,"compare_at_price_min":1499,"compare_at_price_max":1499,"compare_at_price_varies":false,"variants":[{"id":31965495689334,"title":"5 Ounce (Pack of 6)","option1":"5 Ounce (Pack of 6)","option2":null,"option3":null,"sku":"BPPC176-004","requires_shipping":true,"taxable":true,"featured_image":{"id":30316857360418,"product_id":4554552442998,"position":1,"created_at":"2022-10-13T00:25:20-04:00","updated_at":"2022-10-13T00:25:20-04:00","alt":null,"width":1500,"height":1182,"src":"\/\/myhomebody.com\/cdn\/shop\/products\/81BCyRxV_GL._AC_SL1500.jpg?v=1665635120","variant_ids":[31965495689334]},"available":false,"name":"Exfoliating Soap Pocket Squares, Soap Pouch Body Scrubber for 5oz Bar or Leftover Soap Bits, 3 Pack - 5 Ounce (Pack of 6)","public_title":"5 Ounce (Pack of 6)","options":["5 Ounce (Pack of 6)"],"price":1399,"weight":91,"compare_at_price":1499,"inventory_management":"shopify","barcode":"4710343024217","featured_media":{"alt":null,"id":22673613848610,"position":1,"preview_image":{"aspect_ratio":1.269,"height":1182,"width":1500,"src":"\/\/myhomebody.com\/cdn\/shop\/products\/81BCyRxV_GL._AC_SL1500.jpg?v=1665635120"}},"requires_selling_plan":false,"selling_plan_allocations":[]},{"id":40558878097442,"title":"5 Piece Set","option1":"5 Piece Set","option2":null,"option3":null,"sku":"BPPC176-017","requires_shipping":true,"taxable":true,"featured_image":{"id":30316857393186,"product_id":4554552442998,"position":2,"created_at":"2022-10-13T00:25:20-04:00","updated_at":"2022-10-13T00:25:20-04:00","alt":null,"width":1500,"height":1192,"src":"\/\/myhomebody.com\/cdn\/shop\/products\/91bnicAZGEL._AC_SL1500_c472d995-ea05-4bf6-a3d3-e0cfacfdaf19.jpg?v=1665635120","variant_ids":[40558878097442]},"available":false,"name":"Exfoliating Soap Pocket Squares, Soap Pouch Body Scrubber for 5oz Bar or Leftover Soap Bits, 3 Pack - 5 Piece Set","public_title":"5 Piece Set","options":["5 Piece Set"],"price":1499,"weight":82,"compare_at_price":1499,"inventory_management":"shopify","barcode":null,"featured_media":{"alt":null,"id":22673613881378,"position":2,"preview_image":{"aspect_ratio":1.258,"height":1192,"width":1500,"src":"\/\/myhomebody.com\/cdn\/shop\/products\/91bnicAZGEL._AC_SL1500_c472d995-ea05-4bf6-a3d3-e0cfacfdaf19.jpg?v=1665635120"}},"requires_selling_plan":false,"selling_plan_allocations":[]}],"images":["\/\/myhomebody.com\/cdn\/shop\/products\/81BCyRxV_GL._AC_SL1500.jpg?v=1665635120","\/\/myhomebody.com\/cdn\/shop\/products\/91bnicAZGEL._AC_SL1500_c472d995-ea05-4bf6-a3d3-e0cfacfdaf19.jpg?v=1665635120","\/\/myhomebody.com\/cdn\/shop\/products\/61Dp8mupUFL._AC_SL1280_d6f2a251-6821-4cf5-b994-ec2d6f3041e1.jpg?v=1665635120","\/\/myhomebody.com\/cdn\/shop\/products\/91gnXfPnX4L._AC_SL1500_ffff2afe-fb10-46c2-b37f-e7825daad4c6.jpg?v=1665635120","\/\/myhomebody.com\/cdn\/shop\/products\/81G3GErEyoL._AC_SL1280_d23f0dad-19a9-4aa0-b442-bbffebbd9be8.jpg?v=1665635120","\/\/myhomebody.com\/cdn\/shop\/products\/71_ZHi8I9OL._AC_SL1280_e3ae2244-5c37-4ece-b782-2a2de6648d2b.jpg?v=1665635120","\/\/myhomebody.com\/cdn\/shop\/products\/61nP4Fu-T8L._AC_SL1280.jpg?v=1665635120","\/\/myhomebody.com\/cdn\/shop\/products\/71srwsWJrQL._AC_SL1281_a04daf2c-20b1-4c45-a5f6-85f41a17ae45.jpg?v=1665635120"],"featured_image":"\/\/myhomebody.com\/cdn\/shop\/products\/81BCyRxV_GL._AC_SL1500.jpg?v=1665635120","options":["Size"],"media":[{"alt":null,"id":22673613848610,"position":1,"preview_image":{"aspect_ratio":1.269,"height":1182,"width":1500,"src":"\/\/myhomebody.com\/cdn\/shop\/products\/81BCyRxV_GL._AC_SL1500.jpg?v=1665635120"},"aspect_ratio":1.269,"height":1182,"media_type":"image","src":"\/\/myhomebody.com\/cdn\/shop\/products\/81BCyRxV_GL._AC_SL1500.jpg?v=1665635120","width":1500},{"alt":null,"id":22673613881378,"position":2,"preview_image":{"aspect_ratio":1.258,"height":1192,"width":1500,"src":"\/\/myhomebody.com\/cdn\/shop\/products\/91bnicAZGEL._AC_SL1500_c472d995-ea05-4bf6-a3d3-e0cfacfdaf19.jpg?v=1665635120"},"aspect_ratio":1.258,"height":1192,"media_type":"image","src":"\/\/myhomebody.com\/cdn\/shop\/products\/91bnicAZGEL._AC_SL1500_c472d995-ea05-4bf6-a3d3-e0cfacfdaf19.jpg?v=1665635120","width":1500},{"alt":null,"id":22673613914146,"position":3,"preview_image":{"aspect_ratio":1.0,"height":1280,"width":1280,"src":"\/\/myhomebody.com\/cdn\/shop\/products\/61Dp8mupUFL._AC_SL1280_d6f2a251-6821-4cf5-b994-ec2d6f3041e1.jpg?v=1665635120"},"aspect_ratio":1.0,"height":1280,"media_type":"image","src":"\/\/myhomebody.com\/cdn\/shop\/products\/61Dp8mupUFL._AC_SL1280_d6f2a251-6821-4cf5-b994-ec2d6f3041e1.jpg?v=1665635120","width":1280},{"alt":null,"id":22673613946914,"position":4,"preview_image":{"aspect_ratio":1.0,"height":1500,"width":1500,"src":"\/\/myhomebody.com\/cdn\/shop\/products\/91gnXfPnX4L._AC_SL1500_ffff2afe-fb10-46c2-b37f-e7825daad4c6.jpg?v=1665635120"},"aspect_ratio":1.0,"height":1500,"media_type":"image","src":"\/\/myhomebody.com\/cdn\/shop\/products\/91gnXfPnX4L._AC_SL1500_ffff2afe-fb10-46c2-b37f-e7825daad4c6.jpg?v=1665635120","width":1500},{"alt":null,"id":22673613979682,"position":5,"preview_image":{"aspect_ratio":1.0,"height":1280,"width":1280,"src":"\/\/myhomebody.com\/cdn\/shop\/products\/81G3GErEyoL._AC_SL1280_d23f0dad-19a9-4aa0-b442-bbffebbd9be8.jpg?v=1665635120"},"aspect_ratio":1.0,"height":1280,"media_type":"image","src":"\/\/myhomebody.com\/cdn\/shop\/products\/81G3GErEyoL._AC_SL1280_d23f0dad-19a9-4aa0-b442-bbffebbd9be8.jpg?v=1665635120","width":1280},{"alt":null,"id":22673614012450,"position":6,"preview_image":{"aspect_ratio":1.0,"height":1280,"width":1280,"src":"\/\/myhomebody.com\/cdn\/shop\/products\/71_ZHi8I9OL._AC_SL1280_e3ae2244-5c37-4ece-b782-2a2de6648d2b.jpg?v=1665635120"},"aspect_ratio":1.0,"height":1280,"media_type":"image","src":"\/\/myhomebody.com\/cdn\/shop\/products\/71_ZHi8I9OL._AC_SL1280_e3ae2244-5c37-4ece-b782-2a2de6648d2b.jpg?v=1665635120","width":1280},{"alt":null,"id":22673614045218,"position":7,"preview_image":{"aspect_ratio":1.095,"height":1169,"width":1280,"src":"\/\/myhomebody.com\/cdn\/shop\/products\/61nP4Fu-T8L._AC_SL1280.jpg?v=1665635120"},"aspect_ratio":1.095,"height":1169,"media_type":"image","src":"\/\/myhomebody.com\/cdn\/shop\/products\/61nP4Fu-T8L._AC_SL1280.jpg?v=1665635120","width":1280},{"alt":null,"id":22673614077986,"position":8,"preview_image":{"aspect_ratio":0.999,"height":1281,"width":1280,"src":"\/\/myhomebody.com\/cdn\/shop\/products\/71srwsWJrQL._AC_SL1281_a04daf2c-20b1-4c45-a5f6-85f41a17ae45.jpg?v=1665635120"},"aspect_ratio":0.999,"height":1281,"media_type":"image","src":"\/\/myhomebody.com\/cdn\/shop\/products\/71srwsWJrQL._AC_SL1281_a04daf2c-20b1-4c45-a5f6-85f41a17ae45.jpg?v=1665635120","width":1280}],"requires_selling_plan":false,"selling_plan_groups":[],"content":"\u003cul\u003e\n\u003cli\u003e✔️Effective Exfoliation! ✔️Great as a foot scrubber or loofah body scrubber! ✔️Exfoliating Can Help to Reduce Acne breakouts, Even Skin Tone and Boost Circulation, Sweep Away Dead Skin Cells, Revealing Fresh New Glowing Skin! - Prepares Your Skin for After Shower Skin Care Regimen!\u003c\/li\u003e\n\u003cli\u003e✔️Soap Bag and Exfoliating Mitt in One!✔️Exfoliating Pocket Dries More Easily and Cleaner than Loofah!✔️Save On Soap by Collecting All the Little Leftover Soap Bits! Toss Them in The Pocket and Lather Away!\u003c\/li\u003e\n\u003cli\u003e✔️Suitable for Adults with Rough, Dry, Flaky Skin who want a vigorous exfoliating scrub – great for feet, elbows, knees.\u003c\/li\u003e\n\u003cli\u003e✔️ Made from High Quality PE Nylon ✔️ Durable and Easy to Clean ✔️Bonus Soap Lift Soap Saver Pads for storing soap between uses ✔️ Kraft Paper Packaging ✔️SIZE: 4.8" x 4.8" *Soap Not Included\u003c\/li\u003e\n\u003cli\u003e✔️ We Care about Your Satisfaction! myHomeBody wants to be a brand you trust! Buy with confidence knowing that If You're not Satisfied, We'll Make it Right - Reach Out to Us!\u003c\/li\u003e\n\u003c\/ul\u003e"}