Konjac Bath Sponges for Babies and Kids
✔️ Healthy and Safe! These Konjac Sponges are All Natural and Plant-based, Making them the Perfect Baby Bath Set!
✔️ Cute Shapes! This Baby Bath Sponge set features Star, Ladybug and Butterfly will Appeal to Baby Girls and Boys Bath!
✔️Suitable for Kids of All ages, from Infant to Toddler and up!
✔️ Made from the Root of the Konjac Plant, Biodegradable and Compostable ✔️Infused with a pinch of Natural Ingredients - Turmeric (Yellow), Pink Clay (Pink), Pure Konjac (Ivory) ✔️These sponges are a Natural Product, they will start to fall apart - Replace them when they start to disintegrate. ✔️ SIZE: Please See Product Photos
✔️We Care about Your Satisfaction! myHomeBody wants to be a brand you trust! Buy with confidence knowing that If You're not Satisfied, We'll Make it Right - Reach Out to Us!
Kids Bath Time is Fun Time with Natural, Safe Konjac Baby Bath Sponges
Be the Star of Bath Time!
Even the Colors are Natural! The Yellow Star shape is infused with a teeny bit of natural superfood and antioxidant turmeric.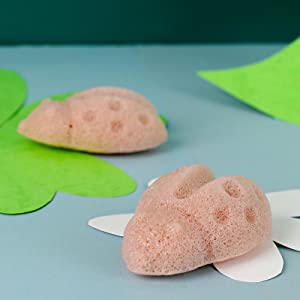 Cute as a Ladybug!
Ladybug is infused with a pinch of Pink Clay, known for its Gentle Cleaning and Soothing properties.
Bathtime Butterflies When You're Having Fun!
White Butterfly is Pure Konjac from the konyakku plant, with no color additives.
{"id":6535648477218,"title":"Konjac Bath Sponges for Babies and Kids","handle":"konjac-bath-sponges-for-babies-and-kids","description":"\u003cul\u003e\n\u003cli\u003e✔️ Healthy and Safe! These Konjac Sponges are All Natural and Plant-based, Making them the Perfect Baby Bath Set!\u003c\/li\u003e\n\u003cli\u003e✔️ Cute Shapes! This Baby Bath Sponge set features Star, Ladybug and Butterfly will Appeal to Baby Girls and Boys Bath!\u003c\/li\u003e\n\u003cli\u003e✔️Suitable for Kids of All ages, from Infant to Toddler and up!\u003c\/li\u003e\n\u003cli\u003e✔️ Made from the Root of the Konjac Plant, Biodegradable and Compostable ✔️Infused with a pinch of Natural Ingredients - Turmeric (Yellow), Pink Clay (Pink), Pure Konjac (Ivory) ✔️These sponges are a Natural Product, they will start to fall apart - Replace them when they start to disintegrate. ✔️ SIZE: Please See Product Photos\u003c\/li\u003e\n\u003cli\u003e✔️We Care about Your Satisfaction! myHomeBody wants to be a brand you trust! Buy with confidence knowing that If You're not Satisfied, We'll Make it Right - Reach Out to Us!\u003c\/li\u003e\n\u003c\/ul\u003e","published_at":"2021-02-25T02:17:35-05:00","created_at":"2021-02-25T02:17:35-05:00","vendor":"myHomeBody","type":"Baby Product","tags":[],"price":1199,"price_min":1199,"price_max":1199,"available":false,"price_varies":false,"compare_at_price":1199,"compare_at_price_min":1199,"compare_at_price_max":1199,"compare_at_price_varies":false,"variants":[{"id":39247678603298,"title":"3 Count (Pack of 1) \/ Ladybug,butterfly,star","option1":"3 Count (Pack of 1)","option2":"Ladybug,butterfly,star","option3":null,"sku":"BABC042-001","requires_shipping":true,"taxable":true,"featured_image":{"id":30316860178466,"product_id":6535648477218,"position":1,"created_at":"2022-10-13T00:25:45-04:00","updated_at":"2022-10-13T00:25:45-04:00","alt":null,"width":1280,"height":1280,"src":"\/\/myhomebody.com\/cdn\/shop\/products\/61mQh6IwwtS._SL1280.jpg?v=1665635145","variant_ids":[39247678603298]},"available":false,"name":"Konjac Bath Sponges for Babies and Kids - 3 Count (Pack of 1) \/ Ladybug,butterfly,star","public_title":"3 Count (Pack of 1) \/ Ladybug,butterfly,star","options":["3 Count (Pack of 1)","Ladybug,butterfly,star"],"price":1199,"weight":38,"compare_at_price":1199,"inventory_management":"shopify","barcode":"4710343024095","featured_media":{"alt":null,"id":22673616666658,"position":1,"preview_image":{"aspect_ratio":1.0,"height":1280,"width":1280,"src":"\/\/myhomebody.com\/cdn\/shop\/products\/61mQh6IwwtS._SL1280.jpg?v=1665635145"}},"requires_selling_plan":false,"selling_plan_allocations":[]},{"id":39256882675746,"title":"3 Count (Pack of 1) \/ Elephant,bear,star","option1":"3 Count (Pack of 1)","option2":"Elephant,bear,star","option3":null,"sku":"BABC042-002","requires_shipping":true,"taxable":true,"featured_image":{"id":30316860211234,"product_id":6535648477218,"position":2,"created_at":"2022-10-13T00:25:45-04:00","updated_at":"2022-10-13T00:25:45-04:00","alt":null,"width":1280,"height":1366,"src":"\/\/myhomebody.com\/cdn\/shop\/products\/71ZNCetVZBS._SL1366_1f2d003c-bcb1-4a21-919c-29b5555ae0d1.jpg?v=1665635145","variant_ids":[39256882675746]},"available":false,"name":"Konjac Bath Sponges for Babies and Kids - 3 Count (Pack of 1) \/ Elephant,bear,star","public_title":"3 Count (Pack of 1) \/ Elephant,bear,star","options":["3 Count (Pack of 1)","Elephant,bear,star"],"price":1199,"weight":39,"compare_at_price":1199,"inventory_management":"shopify","barcode":"4710343024316","featured_media":{"alt":null,"id":22673616699426,"position":2,"preview_image":{"aspect_ratio":0.937,"height":1366,"width":1280,"src":"\/\/myhomebody.com\/cdn\/shop\/products\/71ZNCetVZBS._SL1366_1f2d003c-bcb1-4a21-919c-29b5555ae0d1.jpg?v=1665635145"}},"requires_selling_plan":false,"selling_plan_allocations":[]},{"id":39286041739298,"title":"3 Piece Set \/ Unicorn, Duck, Sea Turtle","option1":"3 Piece Set","option2":"Unicorn, Duck, Sea Turtle","option3":null,"sku":"BABC042-003","requires_shipping":true,"taxable":true,"featured_image":{"id":30316860244002,"product_id":6535648477218,"position":3,"created_at":"2022-10-13T00:25:45-04:00","updated_at":"2022-10-13T00:25:45-04:00","alt":null,"width":1280,"height":1280,"src":"\/\/myhomebody.com\/cdn\/shop\/products\/71yr89q5VRL._SL1280.jpg?v=1665635145","variant_ids":[39286041739298]},"available":false,"name":"Konjac Bath Sponges for Babies and Kids - 3 Piece Set \/ Unicorn, Duck, Sea Turtle","public_title":"3 Piece Set \/ Unicorn, Duck, Sea Turtle","options":["3 Piece Set","Unicorn, Duck, Sea Turtle"],"price":1199,"weight":41,"compare_at_price":1199,"inventory_management":"shopify","barcode":"4710343024361","featured_media":{"alt":null,"id":22673616732194,"position":3,"preview_image":{"aspect_ratio":1.0,"height":1280,"width":1280,"src":"\/\/myhomebody.com\/cdn\/shop\/products\/71yr89q5VRL._SL1280.jpg?v=1665635145"}},"requires_selling_plan":false,"selling_plan_allocations":[]}],"images":["\/\/myhomebody.com\/cdn\/shop\/products\/61mQh6IwwtS._SL1280.jpg?v=1665635145","\/\/myhomebody.com\/cdn\/shop\/products\/71ZNCetVZBS._SL1366_1f2d003c-bcb1-4a21-919c-29b5555ae0d1.jpg?v=1665635145","\/\/myhomebody.com\/cdn\/shop\/products\/71yr89q5VRL._SL1280.jpg?v=1665635145","\/\/myhomebody.com\/cdn\/shop\/products\/61zysObUDWL._SL1280_c4fb841c-4810-465d-a0db-910e79a7fd46.jpg?v=1665635145","\/\/myhomebody.com\/cdn\/shop\/products\/61rDamRiC4L._SL1280_8b214018-cd43-449e-99f3-c7d040886426.jpg?v=1665635145","\/\/myhomebody.com\/cdn\/shop\/products\/61mlUOFkR4L._SL1280_8baf774a-af05-424a-8cdd-154f42f2814f.jpg?v=1665635145","\/\/myhomebody.com\/cdn\/shop\/products\/61I98a27cDL._SL1280_db9611ef-d2ff-41b3-9027-b1019696e11b.jpg?v=1665635145","\/\/myhomebody.com\/cdn\/shop\/products\/613ozm2wYnL._SL1280_1f86e68c-cc3d-4678-be5c-a869210a1c97.jpg?v=1665635145","\/\/myhomebody.com\/cdn\/shop\/products\/71lAIgRbFfL._SL1281_b0a21921-31bc-4419-925a-fe88693caeb0.jpg?v=1665635145"],"featured_image":"\/\/myhomebody.com\/cdn\/shop\/products\/61mQh6IwwtS._SL1280.jpg?v=1665635145","options":["Size","Color"],"media":[{"alt":null,"id":22673616666658,"position":1,"preview_image":{"aspect_ratio":1.0,"height":1280,"width":1280,"src":"\/\/myhomebody.com\/cdn\/shop\/products\/61mQh6IwwtS._SL1280.jpg?v=1665635145"},"aspect_ratio":1.0,"height":1280,"media_type":"image","src":"\/\/myhomebody.com\/cdn\/shop\/products\/61mQh6IwwtS._SL1280.jpg?v=1665635145","width":1280},{"alt":null,"id":22673616699426,"position":2,"preview_image":{"aspect_ratio":0.937,"height":1366,"width":1280,"src":"\/\/myhomebody.com\/cdn\/shop\/products\/71ZNCetVZBS._SL1366_1f2d003c-bcb1-4a21-919c-29b5555ae0d1.jpg?v=1665635145"},"aspect_ratio":0.937,"height":1366,"media_type":"image","src":"\/\/myhomebody.com\/cdn\/shop\/products\/71ZNCetVZBS._SL1366_1f2d003c-bcb1-4a21-919c-29b5555ae0d1.jpg?v=1665635145","width":1280},{"alt":null,"id":22673616732194,"position":3,"preview_image":{"aspect_ratio":1.0,"height":1280,"width":1280,"src":"\/\/myhomebody.com\/cdn\/shop\/products\/71yr89q5VRL._SL1280.jpg?v=1665635145"},"aspect_ratio":1.0,"height":1280,"media_type":"image","src":"\/\/myhomebody.com\/cdn\/shop\/products\/71yr89q5VRL._SL1280.jpg?v=1665635145","width":1280},{"alt":null,"id":22673616764962,"position":4,"preview_image":{"aspect_ratio":1.0,"height":1280,"width":1280,"src":"\/\/myhomebody.com\/cdn\/shop\/products\/61zysObUDWL._SL1280_c4fb841c-4810-465d-a0db-910e79a7fd46.jpg?v=1665635145"},"aspect_ratio":1.0,"height":1280,"media_type":"image","src":"\/\/myhomebody.com\/cdn\/shop\/products\/61zysObUDWL._SL1280_c4fb841c-4810-465d-a0db-910e79a7fd46.jpg?v=1665635145","width":1280},{"alt":null,"id":22673616797730,"position":5,"preview_image":{"aspect_ratio":1.0,"height":1280,"width":1280,"src":"\/\/myhomebody.com\/cdn\/shop\/products\/61rDamRiC4L._SL1280_8b214018-cd43-449e-99f3-c7d040886426.jpg?v=1665635145"},"aspect_ratio":1.0,"height":1280,"media_type":"image","src":"\/\/myhomebody.com\/cdn\/shop\/products\/61rDamRiC4L._SL1280_8b214018-cd43-449e-99f3-c7d040886426.jpg?v=1665635145","width":1280},{"alt":null,"id":22673616830498,"position":6,"preview_image":{"aspect_ratio":1.0,"height":1280,"width":1280,"src":"\/\/myhomebody.com\/cdn\/shop\/products\/61mlUOFkR4L._SL1280_8baf774a-af05-424a-8cdd-154f42f2814f.jpg?v=1665635145"},"aspect_ratio":1.0,"height":1280,"media_type":"image","src":"\/\/myhomebody.com\/cdn\/shop\/products\/61mlUOFkR4L._SL1280_8baf774a-af05-424a-8cdd-154f42f2814f.jpg?v=1665635145","width":1280},{"alt":null,"id":22673616863266,"position":7,"preview_image":{"aspect_ratio":1.0,"height":1280,"width":1280,"src":"\/\/myhomebody.com\/cdn\/shop\/products\/61I98a27cDL._SL1280_db9611ef-d2ff-41b3-9027-b1019696e11b.jpg?v=1665635145"},"aspect_ratio":1.0,"height":1280,"media_type":"image","src":"\/\/myhomebody.com\/cdn\/shop\/products\/61I98a27cDL._SL1280_db9611ef-d2ff-41b3-9027-b1019696e11b.jpg?v=1665635145","width":1280},{"alt":null,"id":22673616896034,"position":8,"preview_image":{"aspect_ratio":1.0,"height":1280,"width":1280,"src":"\/\/myhomebody.com\/cdn\/shop\/products\/613ozm2wYnL._SL1280_1f86e68c-cc3d-4678-be5c-a869210a1c97.jpg?v=1665635145"},"aspect_ratio":1.0,"height":1280,"media_type":"image","src":"\/\/myhomebody.com\/cdn\/shop\/products\/613ozm2wYnL._SL1280_1f86e68c-cc3d-4678-be5c-a869210a1c97.jpg?v=1665635145","width":1280},{"alt":null,"id":22673616928802,"position":9,"preview_image":{"aspect_ratio":0.999,"height":1281,"width":1280,"src":"\/\/myhomebody.com\/cdn\/shop\/products\/71lAIgRbFfL._SL1281_b0a21921-31bc-4419-925a-fe88693caeb0.jpg?v=1665635145"},"aspect_ratio":0.999,"height":1281,"media_type":"image","src":"\/\/myhomebody.com\/cdn\/shop\/products\/71lAIgRbFfL._SL1281_b0a21921-31bc-4419-925a-fe88693caeb0.jpg?v=1665635145","width":1280}],"requires_selling_plan":false,"selling_plan_groups":[],"content":"\u003cul\u003e\n\u003cli\u003e✔️ Healthy and Safe! These Konjac Sponges are All Natural and Plant-based, Making them the Perfect Baby Bath Set!\u003c\/li\u003e\n\u003cli\u003e✔️ Cute Shapes! This Baby Bath Sponge set features Star, Ladybug and Butterfly will Appeal to Baby Girls and Boys Bath!\u003c\/li\u003e\n\u003cli\u003e✔️Suitable for Kids of All ages, from Infant to Toddler and up!\u003c\/li\u003e\n\u003cli\u003e✔️ Made from the Root of the Konjac Plant, Biodegradable and Compostable ✔️Infused with a pinch of Natural Ingredients - Turmeric (Yellow), Pink Clay (Pink), Pure Konjac (Ivory) ✔️These sponges are a Natural Product, they will start to fall apart - Replace them when they start to disintegrate. ✔️ SIZE: Please See Product Photos\u003c\/li\u003e\n\u003cli\u003e✔️We Care about Your Satisfaction! myHomeBody wants to be a brand you trust! Buy with confidence knowing that If You're not Satisfied, We'll Make it Right - Reach Out to Us!\u003c\/li\u003e\n\u003c\/ul\u003e"}