Large 70g Loofah Sponge, Shower Pouf with Activated Charcoal | Lots of Lather, 3 Pack
✔️LARGE 70g SIZE myHomeBody Luxury Shower Pouf / Puff is Big Enough to Fill Your Hand with Luxurious Lather!
✔️Luxury Feel! Perfect Texture for Gentle Exfoliation
✔️Subtle and Elegant Colors suit almost any Bathroom Decor! Great Shower Sponges for Women, Men or Teens!
✔️myHomeBody Luxury Mesh Exfoliating Body Sponge is Made from High Quality Nylon and Infused with Activated Charcoal Powder
✔️We Care about Your Satisfaction! myHomeBody wants to be a brand you trust! Buy with confidence knowing that If You're not Satisfied, We'll Make it Right - Reach Out to Us!
More Lather, More Luxury!
A Real Hand Full!
You'll feel the difference as these large, luxurious 70g poufs fill your hands with sudsy lather!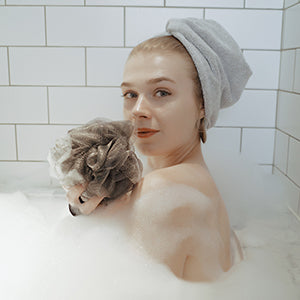 Activate Charcoal Benefits !
Bamboo Charcoal is a Great Natural Cleanser and Purifier.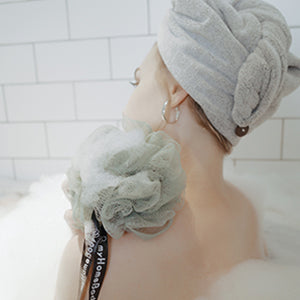 Gentle Exfoliation and a Cleaner Clean!
Just the right texture for thorough but gentle cleaning, the soft, nylon mesh feels comfortable and clean!
{"id":4798106664994,"title":"Large 70g Loofah Sponge, Shower Pouf with Activated Charcoal | Lots of Lather, 3 Pack","handle":"luxury-bath-sponge-70g","description":"\u003cul\u003e\n\u003cli\u003e✔️LARGE 70g SIZE myHomeBody Luxury Shower Pouf \/ Puff is Big Enough to Fill Your Hand with Luxurious Lather!\u003c\/li\u003e\n\u003cli\u003e✔️Luxury Feel! Perfect Texture for Gentle Exfoliation\u003c\/li\u003e\n\u003cli\u003e✔️Subtle and Elegant Colors suit almost any Bathroom Decor! Great Shower Sponges for Women, Men or Teens!\u003c\/li\u003e\n\u003cli\u003e✔️myHomeBody Luxury Mesh Exfoliating Body Sponge is Made from High Quality Nylon and Infused with Activated Charcoal Powder\u003c\/li\u003e\n\u003cli\u003e✔️We Care about Your Satisfaction! myHomeBody wants to be a brand you trust! Buy with confidence knowing that If You're not Satisfied, We'll Make it Right - Reach Out to Us!\u003c\/li\u003e\n\u003c\/ul\u003e","published_at":"2020-09-17T02:06:38-04:00","created_at":"2020-09-17T02:06:38-04:00","vendor":"myHomeBody","type":"Bath \u0026 Shower Accessories","tags":["bath","BATH SPONGE","exfoliate","loofah","LOOFAH SPONGE","shower","shower pouf","sponge"],"price":1299,"price_min":1299,"price_max":1299,"available":false,"price_varies":false,"compare_at_price":1299,"compare_at_price_min":1299,"compare_at_price_max":1399,"compare_at_price_varies":true,"variants":[{"id":32868392730658,"title":"Charcoal \u0026 Sage","option1":"Charcoal \u0026 Sage","option2":null,"option3":null,"sku":"BPPC024-003","requires_shipping":true,"taxable":true,"featured_image":{"id":30316859064354,"product_id":4798106664994,"position":1,"created_at":"2022-10-13T00:25:33-04:00","updated_at":"2022-10-13T00:25:33-04:00","alt":null,"width":1230,"height":1016,"src":"\/\/myhomebody.com\/cdn\/shop\/products\/71C19ZdQhcS._AC_SL1280.jpg?v=1665635133","variant_ids":[32868392730658]},"available":false,"name":"Large 70g Loofah Sponge, Shower Pouf with Activated Charcoal | Lots of Lather, 3 Pack - Charcoal \u0026 Sage","public_title":"Charcoal \u0026 Sage","options":["Charcoal \u0026 Sage"],"price":1299,"weight":340,"compare_at_price":1399,"inventory_management":"shopify","barcode":"4710343029014","featured_media":{"alt":null,"id":22673615552546,"position":1,"preview_image":{"aspect_ratio":1.211,"height":1016,"width":1230,"src":"\/\/myhomebody.com\/cdn\/shop\/products\/71C19ZdQhcS._AC_SL1280.jpg?v=1665635133"}},"requires_selling_plan":false,"selling_plan_allocations":[]},{"id":40558878588962,"title":"Yellow","option1":"Yellow","option2":null,"option3":null,"sku":"BPPC024-057","requires_shipping":true,"taxable":true,"featured_image":{"id":30316859097122,"product_id":4798106664994,"position":2,"created_at":"2022-10-13T00:25:33-04:00","updated_at":"2022-10-13T00:25:33-04:00","alt":null,"width":1185,"height":1030,"src":"\/\/myhomebody.com\/cdn\/shop\/products\/71oZv8Q7azS._AC_SL1280.jpg?v=1665635133","variant_ids":[40558878588962]},"available":false,"name":"Large 70g Loofah Sponge, Shower Pouf with Activated Charcoal | Lots of Lather, 3 Pack - Yellow","public_title":"Yellow","options":["Yellow"],"price":1299,"weight":290,"compare_at_price":1299,"inventory_management":"shopify","barcode":null,"featured_media":{"alt":null,"id":22673615585314,"position":2,"preview_image":{"aspect_ratio":1.15,"height":1030,"width":1185,"src":"\/\/myhomebody.com\/cdn\/shop\/products\/71oZv8Q7azS._AC_SL1280.jpg?v=1665635133"}},"requires_selling_plan":false,"selling_plan_allocations":[]}],"images":["\/\/myhomebody.com\/cdn\/shop\/products\/71C19ZdQhcS._AC_SL1280.jpg?v=1665635133","\/\/myhomebody.com\/cdn\/shop\/products\/71oZv8Q7azS._AC_SL1280.jpg?v=1665635133","\/\/myhomebody.com\/cdn\/shop\/products\/81OxcLRiwBL._AC_SL1500_2f06ee1b-dbc5-40ad-91e3-55e9448fc80f.jpg?v=1665635133","\/\/myhomebody.com\/cdn\/shop\/products\/91Y28h_9BPL._AC_SL1500_a0cc4f13-4eb0-42aa-8ffc-001ff3e3ac9b.jpg?v=1665635133","\/\/myhomebody.com\/cdn\/shop\/products\/81HRDCBxoqL._AC_SL1500_3dab8a2b-571b-4f2f-87a4-7c5e13096676.jpg?v=1665635134","\/\/myhomebody.com\/cdn\/shop\/products\/814lpdZAWKL._AC_SL1500_c12395b0-efd4-4ff2-b4ac-cca8df6f69e3.jpg?v=1665635134","\/\/myhomebody.com\/cdn\/shop\/products\/81RfpvPx--L._AC_SL1500_05797683-cbdd-4dbc-a2ae-6f01c6e91e34.jpg?v=1665635134","\/\/myhomebody.com\/cdn\/shop\/products\/71lAIgRbFfL._AC_SL1281_cc6b3826-9f5d-4569-a88d-33f19341eb75.jpg?v=1665635134"],"featured_image":"\/\/myhomebody.com\/cdn\/shop\/products\/71C19ZdQhcS._AC_SL1280.jpg?v=1665635133","options":["Color"],"media":[{"alt":null,"id":22673615552546,"position":1,"preview_image":{"aspect_ratio":1.211,"height":1016,"width":1230,"src":"\/\/myhomebody.com\/cdn\/shop\/products\/71C19ZdQhcS._AC_SL1280.jpg?v=1665635133"},"aspect_ratio":1.211,"height":1016,"media_type":"image","src":"\/\/myhomebody.com\/cdn\/shop\/products\/71C19ZdQhcS._AC_SL1280.jpg?v=1665635133","width":1230},{"alt":null,"id":22673615585314,"position":2,"preview_image":{"aspect_ratio":1.15,"height":1030,"width":1185,"src":"\/\/myhomebody.com\/cdn\/shop\/products\/71oZv8Q7azS._AC_SL1280.jpg?v=1665635133"},"aspect_ratio":1.15,"height":1030,"media_type":"image","src":"\/\/myhomebody.com\/cdn\/shop\/products\/71oZv8Q7azS._AC_SL1280.jpg?v=1665635133","width":1185},{"alt":null,"id":22673615618082,"position":3,"preview_image":{"aspect_ratio":1.333,"height":1125,"width":1500,"src":"\/\/myhomebody.com\/cdn\/shop\/products\/81OxcLRiwBL._AC_SL1500_2f06ee1b-dbc5-40ad-91e3-55e9448fc80f.jpg?v=1665635133"},"aspect_ratio":1.333,"height":1125,"media_type":"image","src":"\/\/myhomebody.com\/cdn\/shop\/products\/81OxcLRiwBL._AC_SL1500_2f06ee1b-dbc5-40ad-91e3-55e9448fc80f.jpg?v=1665635133","width":1500},{"alt":null,"id":22673615650850,"position":4,"preview_image":{"aspect_ratio":1.391,"height":1078,"width":1500,"src":"\/\/myhomebody.com\/cdn\/shop\/products\/91Y28h_9BPL._AC_SL1500_a0cc4f13-4eb0-42aa-8ffc-001ff3e3ac9b.jpg?v=1665635133"},"aspect_ratio":1.391,"height":1078,"media_type":"image","src":"\/\/myhomebody.com\/cdn\/shop\/products\/91Y28h_9BPL._AC_SL1500_a0cc4f13-4eb0-42aa-8ffc-001ff3e3ac9b.jpg?v=1665635133","width":1500},{"alt":null,"id":22673615683618,"position":5,"preview_image":{"aspect_ratio":1.333,"height":1125,"width":1500,"src":"\/\/myhomebody.com\/cdn\/shop\/products\/81HRDCBxoqL._AC_SL1500_3dab8a2b-571b-4f2f-87a4-7c5e13096676.jpg?v=1665635134"},"aspect_ratio":1.333,"height":1125,"media_type":"image","src":"\/\/myhomebody.com\/cdn\/shop\/products\/81HRDCBxoqL._AC_SL1500_3dab8a2b-571b-4f2f-87a4-7c5e13096676.jpg?v=1665635134","width":1500},{"alt":null,"id":22673615716386,"position":6,"preview_image":{"aspect_ratio":1.399,"height":1072,"width":1500,"src":"\/\/myhomebody.com\/cdn\/shop\/products\/814lpdZAWKL._AC_SL1500_c12395b0-efd4-4ff2-b4ac-cca8df6f69e3.jpg?v=1665635134"},"aspect_ratio":1.399,"height":1072,"media_type":"image","src":"\/\/myhomebody.com\/cdn\/shop\/products\/814lpdZAWKL._AC_SL1500_c12395b0-efd4-4ff2-b4ac-cca8df6f69e3.jpg?v=1665635134","width":1500},{"alt":null,"id":22673615749154,"position":7,"preview_image":{"aspect_ratio":1.412,"height":1062,"width":1500,"src":"\/\/myhomebody.com\/cdn\/shop\/products\/81RfpvPx--L._AC_SL1500_05797683-cbdd-4dbc-a2ae-6f01c6e91e34.jpg?v=1665635134"},"aspect_ratio":1.412,"height":1062,"media_type":"image","src":"\/\/myhomebody.com\/cdn\/shop\/products\/81RfpvPx--L._AC_SL1500_05797683-cbdd-4dbc-a2ae-6f01c6e91e34.jpg?v=1665635134","width":1500},{"alt":null,"id":22673615781922,"position":8,"preview_image":{"aspect_ratio":0.999,"height":1281,"width":1280,"src":"\/\/myhomebody.com\/cdn\/shop\/products\/71lAIgRbFfL._AC_SL1281_cc6b3826-9f5d-4569-a88d-33f19341eb75.jpg?v=1665635134"},"aspect_ratio":0.999,"height":1281,"media_type":"image","src":"\/\/myhomebody.com\/cdn\/shop\/products\/71lAIgRbFfL._AC_SL1281_cc6b3826-9f5d-4569-a88d-33f19341eb75.jpg?v=1665635134","width":1280}],"requires_selling_plan":false,"selling_plan_groups":[],"content":"\u003cul\u003e\n\u003cli\u003e✔️LARGE 70g SIZE myHomeBody Luxury Shower Pouf \/ Puff is Big Enough to Fill Your Hand with Luxurious Lather!\u003c\/li\u003e\n\u003cli\u003e✔️Luxury Feel! Perfect Texture for Gentle Exfoliation\u003c\/li\u003e\n\u003cli\u003e✔️Subtle and Elegant Colors suit almost any Bathroom Decor! Great Shower Sponges for Women, Men or Teens!\u003c\/li\u003e\n\u003cli\u003e✔️myHomeBody Luxury Mesh Exfoliating Body Sponge is Made from High Quality Nylon and Infused with Activated Charcoal Powder\u003c\/li\u003e\n\u003cli\u003e✔️We Care about Your Satisfaction! myHomeBody wants to be a brand you trust! Buy with confidence knowing that If You're not Satisfied, We'll Make it Right - Reach Out to Us!\u003c\/li\u003e\n\u003c\/ul\u003e"}