Premium Foam Bath Sponge, Body Sponge for Shower - Large Size, Lots of Lather, 3 Pack
✔️Luxuriously Rich Lather! Soft yet Sturdy Feel for Gentle Scrubbing! ✔️A Real Handful of foamy bubbles!! The large size of myHomeBody Foam Body Sponge gives you more to hold onto and more sudsy washing coverage!
✔️Looking Good! Sturdy Rope for Hanging! The faux sea sponge-look and style makes shower or bath time feel more - beachy! Great for Beach house or Boho décor!
✔️Tastefully Designed Reusable Zip-lock Bag! Use it to keep travel soaps, gels and shampoos, toothpaste etc. or small toys, puzzle pieces, craft supplies.
✔️Made in Taiwan with 1 Piece (not several glued layers) of High-Quality PU Foam Material ✔️Solid Construction - No Crumbling or Tearing - these foam sponges are durable and dependable! ✔️SIZE: 5.4" X 5"x2.4"; Strap Length 4"
✔️We Care about Your Satisfaction! myHomeBody wants to be a brand you trust! Buy with confidence knowing that If You're not Satisfied, We'll Make it Right - Reach Out to Us
MyHomeBody Premium Foam Loofah Bath Sponges More Lather, More Luxury!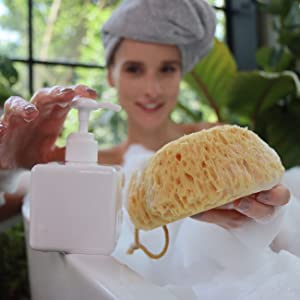 Large Size - A Hand Full of Suds!
You'll feel the difference as these large, luxurious sponges fill your hands with sudsy lather!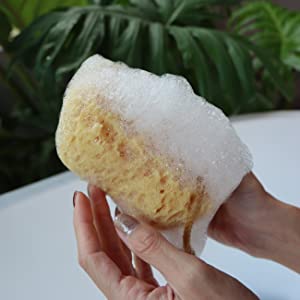 Luxurious Look and Feel!
Well-constructed from one solid piece of material with a honeycomb structure to hold onto suds!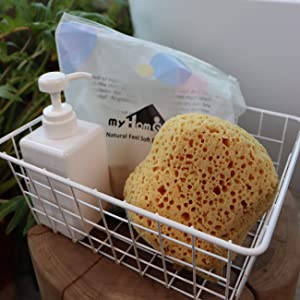 A Brand You Can Trust!
myHomeBody customers know that we stand by the quality of our products – we're here for You!
{"id":4807475167266,"title":"Premium Foam Bath Sponge, Body Sponge for Shower - Large Size, Lots of Lather, 3 Pack","handle":"myhomebody-premium-bath-sponge-foam-loofah-sponge-body-sponge-for-shower-natural-sea-sponge-look-lots-of-lather-3-pack","description":"\u003cul\u003e\n\u003cli\u003e✔️Luxuriously Rich Lather! Soft yet Sturdy Feel for Gentle Scrubbing! ✔️A Real Handful of foamy bubbles!! The large size of myHomeBody Foam Body Sponge gives you more to hold onto and more sudsy washing coverage!\u003c\/li\u003e\n\u003cli\u003e✔️Looking Good! Sturdy Rope for Hanging! The faux sea sponge-look and style makes shower or bath time feel more - beachy! Great for Beach house or Boho décor!\u003c\/li\u003e\n\u003cli\u003e✔️Tastefully Designed Reusable Zip-lock Bag! Use it to keep travel soaps, gels and shampoos, toothpaste etc. or small toys, puzzle pieces, craft supplies.\u003c\/li\u003e\n\u003cli\u003e✔️Made in Taiwan with 1 Piece (not several glued layers) of High-Quality PU Foam Material ✔️Solid Construction - No Crumbling or Tearing - these foam sponges are durable and dependable! ✔️SIZE: 5.4" X 5"x2.4\"; Strap Length 4"\u003c\/li\u003e\n\u003cli\u003e✔️We Care about Your Satisfaction! myHomeBody wants to be a brand you trust! Buy with confidence knowing that If You're not Satisfied, We'll Make it Right - Reach Out to Us\u003c\/li\u003e\n\u003c\/ul\u003e","published_at":"2020-10-02T02:03:17-04:00","created_at":"2020-10-02T02:03:17-04:00","vendor":"myHomeBody","type":"Bath \u0026 Shower Accessories","tags":["bath","BATH SPONGE","bathroom","foam sponge","loofah","LOOFAH SPONGE","sea sponge","shower","sponge"],"price":1499,"price_min":1499,"price_max":1699,"available":false,"price_varies":true,"compare_at_price":1699,"compare_at_price_min":1699,"compare_at_price_max":1699,"compare_at_price_varies":false,"variants":[{"id":32899920068642,"title":"Curvy","option1":"Curvy","option2":null,"option3":null,"sku":"BPPC024-010","requires_shipping":true,"taxable":true,"featured_image":{"id":30316858736674,"product_id":4807475167266,"position":1,"created_at":"2022-10-13T00:25:30-04:00","updated_at":"2022-10-13T00:25:30-04:00","alt":null,"width":989,"height":880,"src":"\/\/myhomebody.com\/cdn\/shop\/products\/61X6Lhfgs5L._AC_SL1280_2ccdca2c-2948-4dbe-a4d7-c75540362ff1.jpg?v=1665635130","variant_ids":[32899920068642]},"available":false,"name":"Premium Foam Bath Sponge, Body Sponge for Shower - Large Size, Lots of Lather, 3 Pack - Curvy","public_title":"Curvy","options":["Curvy"],"price":1499,"weight":59,"compare_at_price":1699,"inventory_management":"shopify","barcode":"4710343024309","featured_media":{"alt":null,"id":22673615224866,"position":1,"preview_image":{"aspect_ratio":1.124,"height":880,"width":989,"src":"\/\/myhomebody.com\/cdn\/shop\/products\/61X6Lhfgs5L._AC_SL1280_2ccdca2c-2948-4dbe-a4d7-c75540362ff1.jpg?v=1665635130"}},"requires_selling_plan":false,"selling_plan_allocations":[]},{"id":40558895136802,"title":"Round","option1":"Round","option2":null,"option3":null,"sku":"BPPC024-035","requires_shipping":true,"taxable":true,"featured_image":{"id":30316858769442,"product_id":4807475167266,"position":2,"created_at":"2022-10-13T00:25:30-04:00","updated_at":"2022-10-13T00:25:30-04:00","alt":null,"width":1500,"height":1292,"src":"\/\/myhomebody.com\/cdn\/shop\/products\/71Wmgjf_93L._AC_SL1500.jpg?v=1665635130","variant_ids":[40558895136802]},"available":false,"name":"Premium Foam Bath Sponge, Body Sponge for Shower - Large Size, Lots of Lather, 3 Pack - Round","public_title":"Round","options":["Round"],"price":1499,"weight":59,"compare_at_price":1699,"inventory_management":"shopify","barcode":null,"featured_media":{"alt":null,"id":22673615257634,"position":2,"preview_image":{"aspect_ratio":1.161,"height":1292,"width":1500,"src":"\/\/myhomebody.com\/cdn\/shop\/products\/71Wmgjf_93L._AC_SL1500.jpg?v=1665635130"}},"requires_selling_plan":false,"selling_plan_allocations":[]},{"id":40558895169570,"title":"Square","option1":"Square","option2":null,"option3":null,"sku":"BPPC024-036","requires_shipping":true,"taxable":true,"featured_image":{"id":30316858802210,"product_id":4807475167266,"position":3,"created_at":"2022-10-13T00:25:30-04:00","updated_at":"2022-10-13T00:25:30-04:00","alt":null,"width":1500,"height":1314,"src":"\/\/myhomebody.com\/cdn\/shop\/products\/81UerSih3jL._AC_SL1500.jpg?v=1665635130","variant_ids":[40558895169570]},"available":false,"name":"Premium Foam Bath Sponge, Body Sponge for Shower - Large Size, Lots of Lather, 3 Pack - Square","public_title":"Square","options":["Square"],"price":1699,"weight":59,"compare_at_price":1699,"inventory_management":"shopify","barcode":null,"featured_media":{"alt":null,"id":22673615290402,"position":3,"preview_image":{"aspect_ratio":1.142,"height":1314,"width":1500,"src":"\/\/myhomebody.com\/cdn\/shop\/products\/81UerSih3jL._AC_SL1500.jpg?v=1665635130"}},"requires_selling_plan":false,"selling_plan_allocations":[]},{"id":40558895202338,"title":"Oval","option1":"Oval","option2":null,"option3":null,"sku":"BPPC024-034","requires_shipping":true,"taxable":true,"featured_image":{"id":30316858834978,"product_id":4807475167266,"position":4,"created_at":"2022-10-13T00:25:30-04:00","updated_at":"2022-10-13T00:25:30-04:00","alt":null,"width":1500,"height":1387,"src":"\/\/myhomebody.com\/cdn\/shop\/products\/71FdYRQS1UL._AC_SL1500.jpg?v=1665635130","variant_ids":[40558895202338]},"available":false,"name":"Premium Foam Bath Sponge, Body Sponge for Shower - Large Size, Lots of Lather, 3 Pack - Oval","public_title":"Oval","options":["Oval"],"price":1699,"weight":50,"compare_at_price":1699,"inventory_management":"shopify","barcode":null,"featured_media":{"alt":null,"id":22673615323170,"position":4,"preview_image":{"aspect_ratio":1.081,"height":1387,"width":1500,"src":"\/\/myhomebody.com\/cdn\/shop\/products\/71FdYRQS1UL._AC_SL1500.jpg?v=1665635130"}},"requires_selling_plan":false,"selling_plan_allocations":[]}],"images":["\/\/myhomebody.com\/cdn\/shop\/products\/61X6Lhfgs5L._AC_SL1280_2ccdca2c-2948-4dbe-a4d7-c75540362ff1.jpg?v=1665635130","\/\/myhomebody.com\/cdn\/shop\/products\/71Wmgjf_93L._AC_SL1500.jpg?v=1665635130","\/\/myhomebody.com\/cdn\/shop\/products\/81UerSih3jL._AC_SL1500.jpg?v=1665635130","\/\/myhomebody.com\/cdn\/shop\/products\/71FdYRQS1UL._AC_SL1500.jpg?v=1665635130","\/\/myhomebody.com\/cdn\/shop\/products\/717_SzrLrjL._AC_SL1280_ce382c14-2f0d-4102-bf6f-302b7550babd.jpg?v=1665635130","\/\/myhomebody.com\/cdn\/shop\/products\/61QdqthB8kL._AC_SL1280_30c0c51b-b44c-4ef8-ac48-bf506020329a.jpg?v=1665635130","\/\/myhomebody.com\/cdn\/shop\/products\/91FN8TYuH9L._AC_SL1500_d8a4b9ca-1e07-44b5-bc37-40cbdbbb1c4e.jpg?v=1665635130","\/\/myhomebody.com\/cdn\/shop\/products\/71y6tjp-WIL._AC_SL1280_3cc5b13e-1591-4f6b-b097-546fb518fb65.jpg?v=1665635130","\/\/myhomebody.com\/cdn\/shop\/products\/71KkW-kQ_oL._AC_SL1280_44eaa94b-dac8-442f-a2cf-f77567cc3674.jpg?v=1665635130","\/\/myhomebody.com\/cdn\/shop\/products\/71lAIgRbFfL._AC_SL1281_a3b98d24-6dbf-411c-b828-bd15a4461427.jpg?v=1665635130"],"featured_image":"\/\/myhomebody.com\/cdn\/shop\/products\/61X6Lhfgs5L._AC_SL1280_2ccdca2c-2948-4dbe-a4d7-c75540362ff1.jpg?v=1665635130","options":["Style"],"media":[{"alt":null,"id":22673615224866,"position":1,"preview_image":{"aspect_ratio":1.124,"height":880,"width":989,"src":"\/\/myhomebody.com\/cdn\/shop\/products\/61X6Lhfgs5L._AC_SL1280_2ccdca2c-2948-4dbe-a4d7-c75540362ff1.jpg?v=1665635130"},"aspect_ratio":1.124,"height":880,"media_type":"image","src":"\/\/myhomebody.com\/cdn\/shop\/products\/61X6Lhfgs5L._AC_SL1280_2ccdca2c-2948-4dbe-a4d7-c75540362ff1.jpg?v=1665635130","width":989},{"alt":null,"id":22673615257634,"position":2,"preview_image":{"aspect_ratio":1.161,"height":1292,"width":1500,"src":"\/\/myhomebody.com\/cdn\/shop\/products\/71Wmgjf_93L._AC_SL1500.jpg?v=1665635130"},"aspect_ratio":1.161,"height":1292,"media_type":"image","src":"\/\/myhomebody.com\/cdn\/shop\/products\/71Wmgjf_93L._AC_SL1500.jpg?v=1665635130","width":1500},{"alt":null,"id":22673615290402,"position":3,"preview_image":{"aspect_ratio":1.142,"height":1314,"width":1500,"src":"\/\/myhomebody.com\/cdn\/shop\/products\/81UerSih3jL._AC_SL1500.jpg?v=1665635130"},"aspect_ratio":1.142,"height":1314,"media_type":"image","src":"\/\/myhomebody.com\/cdn\/shop\/products\/81UerSih3jL._AC_SL1500.jpg?v=1665635130","width":1500},{"alt":null,"id":22673615323170,"position":4,"preview_image":{"aspect_ratio":1.081,"height":1387,"width":1500,"src":"\/\/myhomebody.com\/cdn\/shop\/products\/71FdYRQS1UL._AC_SL1500.jpg?v=1665635130"},"aspect_ratio":1.081,"height":1387,"media_type":"image","src":"\/\/myhomebody.com\/cdn\/shop\/products\/71FdYRQS1UL._AC_SL1500.jpg?v=1665635130","width":1500},{"alt":null,"id":22673615355938,"position":5,"preview_image":{"aspect_ratio":1.0,"height":1280,"width":1280,"src":"\/\/myhomebody.com\/cdn\/shop\/products\/717_SzrLrjL._AC_SL1280_ce382c14-2f0d-4102-bf6f-302b7550babd.jpg?v=1665635130"},"aspect_ratio":1.0,"height":1280,"media_type":"image","src":"\/\/myhomebody.com\/cdn\/shop\/products\/717_SzrLrjL._AC_SL1280_ce382c14-2f0d-4102-bf6f-302b7550babd.jpg?v=1665635130","width":1280},{"alt":null,"id":22673615388706,"position":6,"preview_image":{"aspect_ratio":1.0,"height":1280,"width":1280,"src":"\/\/myhomebody.com\/cdn\/shop\/products\/61QdqthB8kL._AC_SL1280_30c0c51b-b44c-4ef8-ac48-bf506020329a.jpg?v=1665635130"},"aspect_ratio":1.0,"height":1280,"media_type":"image","src":"\/\/myhomebody.com\/cdn\/shop\/products\/61QdqthB8kL._AC_SL1280_30c0c51b-b44c-4ef8-ac48-bf506020329a.jpg?v=1665635130","width":1280},{"alt":null,"id":22673615421474,"position":7,"preview_image":{"aspect_ratio":1.0,"height":1500,"width":1500,"src":"\/\/myhomebody.com\/cdn\/shop\/products\/91FN8TYuH9L._AC_SL1500_d8a4b9ca-1e07-44b5-bc37-40cbdbbb1c4e.jpg?v=1665635130"},"aspect_ratio":1.0,"height":1500,"media_type":"image","src":"\/\/myhomebody.com\/cdn\/shop\/products\/91FN8TYuH9L._AC_SL1500_d8a4b9ca-1e07-44b5-bc37-40cbdbbb1c4e.jpg?v=1665635130","width":1500},{"alt":null,"id":22673615454242,"position":8,"preview_image":{"aspect_ratio":1.0,"height":1280,"width":1280,"src":"\/\/myhomebody.com\/cdn\/shop\/products\/71y6tjp-WIL._AC_SL1280_3cc5b13e-1591-4f6b-b097-546fb518fb65.jpg?v=1665635130"},"aspect_ratio":1.0,"height":1280,"media_type":"image","src":"\/\/myhomebody.com\/cdn\/shop\/products\/71y6tjp-WIL._AC_SL1280_3cc5b13e-1591-4f6b-b097-546fb518fb65.jpg?v=1665635130","width":1280},{"alt":null,"id":22673615487010,"position":9,"preview_image":{"aspect_ratio":1.0,"height":1280,"width":1280,"src":"\/\/myhomebody.com\/cdn\/shop\/products\/71KkW-kQ_oL._AC_SL1280_44eaa94b-dac8-442f-a2cf-f77567cc3674.jpg?v=1665635130"},"aspect_ratio":1.0,"height":1280,"media_type":"image","src":"\/\/myhomebody.com\/cdn\/shop\/products\/71KkW-kQ_oL._AC_SL1280_44eaa94b-dac8-442f-a2cf-f77567cc3674.jpg?v=1665635130","width":1280},{"alt":null,"id":22673615519778,"position":10,"preview_image":{"aspect_ratio":0.999,"height":1281,"width":1280,"src":"\/\/myhomebody.com\/cdn\/shop\/products\/71lAIgRbFfL._AC_SL1281_a3b98d24-6dbf-411c-b828-bd15a4461427.jpg?v=1665635130"},"aspect_ratio":0.999,"height":1281,"media_type":"image","src":"\/\/myhomebody.com\/cdn\/shop\/products\/71lAIgRbFfL._AC_SL1281_a3b98d24-6dbf-411c-b828-bd15a4461427.jpg?v=1665635130","width":1280}],"requires_selling_plan":false,"selling_plan_groups":[],"content":"\u003cul\u003e\n\u003cli\u003e✔️Luxuriously Rich Lather! Soft yet Sturdy Feel for Gentle Scrubbing! ✔️A Real Handful of foamy bubbles!! The large size of myHomeBody Foam Body Sponge gives you more to hold onto and more sudsy washing coverage!\u003c\/li\u003e\n\u003cli\u003e✔️Looking Good! Sturdy Rope for Hanging! The faux sea sponge-look and style makes shower or bath time feel more - beachy! Great for Beach house or Boho décor!\u003c\/li\u003e\n\u003cli\u003e✔️Tastefully Designed Reusable Zip-lock Bag! Use it to keep travel soaps, gels and shampoos, toothpaste etc. or small toys, puzzle pieces, craft supplies.\u003c\/li\u003e\n\u003cli\u003e✔️Made in Taiwan with 1 Piece (not several glued layers) of High-Quality PU Foam Material ✔️Solid Construction - No Crumbling or Tearing - these foam sponges are durable and dependable! ✔️SIZE: 5.4" X 5"x2.4\"; Strap Length 4"\u003c\/li\u003e\n\u003cli\u003e✔️We Care about Your Satisfaction! myHomeBody wants to be a brand you trust! Buy with confidence knowing that If You're not Satisfied, We'll Make it Right - Reach Out to Us\u003c\/li\u003e\n\u003c\/ul\u003e"}