Soap Dish, Waterfall Design
✔️ Waterfall Design is A Self-draining System, Keep Your Bar Soap Dry, a great Soap Saver!
✔️ Durable and Long-lasting! This Soap Dish is designed and made to last longer!
✔️ Soap Dishes For Bathroom and Kitchen, Can Also Use As Sponge Tray.
✔️ Made of High-Quality Silicone, More Resistant to Humidity and Mildew than other materials.
✔️We Care about Your Satisfaction! myHomeBody wants to be a brand you trust! Buy with confidence knowing that If You're not Satisfied, We'll Make it Right - Reach Out to Us!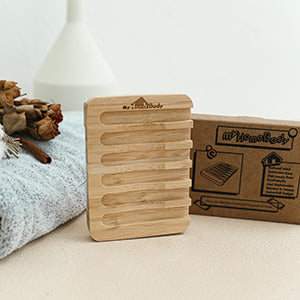 Rustic Natural Bamboo Soap Dish Bar Soap Holder in Waterfall Design - by myHomeBody!
Simple, Effective, Natural, Elegant! Elevate Your Soap with this Sustainable Bamboo Design!
Add a Natural Touch to Your Bathroom Decor!
Drains Water Away
The graded "Waterfall" design allows water to drain away - No Stagnant Water!
Elevate Your Soap!
Effective and Well-made - package includes adhesive feet to avoid slippage!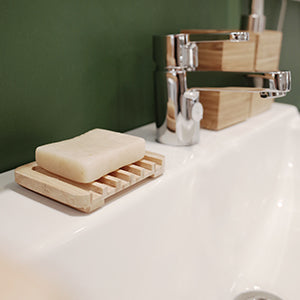 Natural Bath Decor!
myHomeBody's Rustic Organic and Elegant Design lends a Natural Feel to Your Bathroom Decor, and made from Sustainable Bamboo to make you feel good about using less plastic!
{"id":4547724968054,"title":"Soap Dish, Waterfall Design","handle":"myhomebody-soap-dishes-for-bathroom-bar-soap-holder-sponge-holder-waterfall-design-bathroom-accessories","description":"\u003cul\u003e\n\u003cli\u003e✔️ Waterfall Design is A Self-draining System, Keep Your Bar Soap Dry, a great Soap Saver!\u003c\/li\u003e\n\u003cli\u003e✔️ Durable and Long-lasting! This Soap Dish is designed and made to last longer!\u003c\/li\u003e\n\u003cli\u003e✔️ Soap Dishes For Bathroom and Kitchen, Can Also Use As Sponge Tray.\u003c\/li\u003e\n\u003cli\u003e✔️ Made of High-Quality Silicone, More Resistant to Humidity and Mildew than other materials.\u003c\/li\u003e\n\u003cli\u003e✔️We Care about Your Satisfaction! myHomeBody wants to be a brand you trust! Buy with confidence knowing that If You're not Satisfied, We'll Make it Right - Reach Out to Us!\u003c\/li\u003e\n\u003c\/ul\u003e","published_at":"2020-07-22T06:35:10-04:00","created_at":"2020-07-22T06:35:10-04:00","vendor":"myHomeBody","type":"Soap Dishes \u0026 Accessories","tags":["bamboo","bath","bathroom","soap","soap dish"],"price":899,"price_min":899,"price_max":1299,"available":false,"price_varies":true,"compare_at_price":899,"compare_at_price_min":899,"compare_at_price_max":1299,"compare_at_price_varies":true,"variants":[{"id":40548832575522,"title":"Bamboo \/ 1 Pack \/ 1","option1":"Bamboo","option2":"1 Pack","option3":"1","sku":"HKBA075-004","requires_shipping":true,"taxable":true,"featured_image":{"id":30316856082466,"product_id":4547724968054,"position":1,"created_at":"2022-10-13T00:25:01-04:00","updated_at":"2022-10-13T00:25:01-04:00","alt":null,"width":1208,"height":1144,"src":"\/\/myhomebody.com\/cdn\/shop\/products\/61Ho3c_KGYL._AC_SL1280.jpg?v=1665635101","variant_ids":[40548832575522,40548832608290]},"available":false,"name":"Soap Dish, Waterfall Design - Bamboo \/ 1 Pack \/ 1","public_title":"Bamboo \/ 1 Pack \/ 1","options":["Bamboo","1 Pack","1"],"price":1299,"weight":0,"compare_at_price":1299,"inventory_management":"shopify","barcode":null,"featured_media":{"alt":null,"id":22673612603426,"position":1,"preview_image":{"aspect_ratio":1.056,"height":1144,"width":1208,"src":"\/\/myhomebody.com\/cdn\/shop\/products\/61Ho3c_KGYL._AC_SL1280.jpg?v=1665635101"}},"requires_selling_plan":false,"selling_plan_allocations":[]},{"id":40548832608290,"title":"Silicone - Grey \u0026 White \/ 2 Pack \/ 2","option1":"Silicone - Grey \u0026 White","option2":"2 Pack","option3":"2","sku":"HKBA075-008","requires_shipping":true,"taxable":true,"featured_image":{"id":30316856082466,"product_id":4547724968054,"position":1,"created_at":"2022-10-13T00:25:01-04:00","updated_at":"2022-10-13T00:25:01-04:00","alt":null,"width":1208,"height":1144,"src":"\/\/myhomebody.com\/cdn\/shop\/products\/61Ho3c_KGYL._AC_SL1280.jpg?v=1665635101","variant_ids":[40548832575522,40548832608290]},"available":false,"name":"Soap Dish, Waterfall Design - Silicone - Grey \u0026 White \/ 2 Pack \/ 2","public_title":"Silicone - Grey \u0026 White \/ 2 Pack \/ 2","options":["Silicone - Grey \u0026 White","2 Pack","2"],"price":899,"weight":82,"compare_at_price":899,"inventory_management":"shopify","barcode":null,"featured_media":{"alt":null,"id":22673612603426,"position":1,"preview_image":{"aspect_ratio":1.056,"height":1144,"width":1208,"src":"\/\/myhomebody.com\/cdn\/shop\/products\/61Ho3c_KGYL._AC_SL1280.jpg?v=1665635101"}},"requires_selling_plan":false,"selling_plan_allocations":[]},{"id":40548832641058,"title":"Silicone - Ink \u0026 White \/ 2 Pack \/ 2","option1":"Silicone - Ink \u0026 White","option2":"2 Pack","option3":"2","sku":"HKBA075-010","requires_shipping":true,"taxable":true,"featured_image":{"id":30316856148002,"product_id":4547724968054,"position":2,"created_at":"2022-10-13T00:25:01-04:00","updated_at":"2022-10-13T00:25:01-04:00","alt":null,"width":1222,"height":1167,"src":"\/\/myhomebody.com\/cdn\/shop\/products\/51x7CQQMiTL._AC_SL1280.jpg?v=1665635101","variant_ids":[40548832641058]},"available":false,"name":"Soap Dish, Waterfall Design - Silicone - Ink \u0026 White \/ 2 Pack \/ 2","public_title":"Silicone - Ink \u0026 White \/ 2 Pack \/ 2","options":["Silicone - Ink \u0026 White","2 Pack","2"],"price":899,"weight":91,"compare_at_price":899,"inventory_management":"shopify","barcode":null,"featured_media":{"alt":null,"id":22673612668962,"position":2,"preview_image":{"aspect_ratio":1.047,"height":1167,"width":1222,"src":"\/\/myhomebody.com\/cdn\/shop\/products\/51x7CQQMiTL._AC_SL1280.jpg?v=1665635101"}},"requires_selling_plan":false,"selling_plan_allocations":[]},{"id":40548832673826,"title":"Silicone - Ink \u0026 Grey \/ 2 Pack \/ 2","option1":"Silicone - Ink \u0026 Grey","option2":"2 Pack","option3":"2","sku":"HKBA075-009","requires_shipping":true,"taxable":true,"featured_image":{"id":30316856213538,"product_id":4547724968054,"position":3,"created_at":"2022-10-13T00:25:01-04:00","updated_at":"2022-10-13T00:25:01-04:00","alt":null,"width":1211,"height":1181,"src":"\/\/myhomebody.com\/cdn\/shop\/products\/61GVgX-GhZL._AC_SL1280.jpg?v=1665635101","variant_ids":[40548832673826]},"available":false,"name":"Soap Dish, Waterfall Design - Silicone - Ink \u0026 Grey \/ 2 Pack \/ 2","public_title":"Silicone - Ink \u0026 Grey \/ 2 Pack \/ 2","options":["Silicone - Ink \u0026 Grey","2 Pack","2"],"price":899,"weight":82,"compare_at_price":899,"inventory_management":"shopify","barcode":null,"featured_media":{"alt":null,"id":22673612734498,"position":3,"preview_image":{"aspect_ratio":1.025,"height":1181,"width":1211,"src":"\/\/myhomebody.com\/cdn\/shop\/products\/61GVgX-GhZL._AC_SL1280.jpg?v=1665635101"}},"requires_selling_plan":false,"selling_plan_allocations":[]}],"images":["\/\/myhomebody.com\/cdn\/shop\/products\/61Ho3c_KGYL._AC_SL1280.jpg?v=1665635101","\/\/myhomebody.com\/cdn\/shop\/products\/51x7CQQMiTL._AC_SL1280.jpg?v=1665635101","\/\/myhomebody.com\/cdn\/shop\/products\/61GVgX-GhZL._AC_SL1280.jpg?v=1665635101","\/\/myhomebody.com\/cdn\/shop\/products\/61p_3df0-5L._AC_SL1280_5d130ad8-dc4b-4535-9a35-f845eb5722ae.jpg?v=1665635101","\/\/myhomebody.com\/cdn\/shop\/products\/719NL57VaUL._AC_SL1280_042e10a0-8db0-4e8f-9e76-d84a48bd7473.jpg?v=1665635101","\/\/myhomebody.com\/cdn\/shop\/products\/617oTAPkSzL._AC_SL1280_5fbf58cd-182c-4482-8b94-7f10cf5312d3.jpg?v=1665635101","\/\/myhomebody.com\/cdn\/shop\/products\/614H0qvguqL._AC_SL1280_7e7299ce-f9e1-4846-be7c-8adcf8ce77aa.jpg?v=1665635101","\/\/myhomebody.com\/cdn\/shop\/products\/71zvlhueMLL._AC_SL1280_e59c2a68-3038-4bc1-b2f8-1d85dd0a9aad.jpg?v=1665635101","\/\/myhomebody.com\/cdn\/shop\/products\/71THA4IljlS._AC_SL1281_a49c90fc-f3c6-4b07-ba9d-48148f76a7e2.jpg?v=1665635101"],"featured_image":"\/\/myhomebody.com\/cdn\/shop\/products\/61Ho3c_KGYL._AC_SL1280.jpg?v=1665635101","options":["Material type","Size","Items count"],"media":[{"alt":null,"id":22673612603426,"position":1,"preview_image":{"aspect_ratio":1.056,"height":1144,"width":1208,"src":"\/\/myhomebody.com\/cdn\/shop\/products\/61Ho3c_KGYL._AC_SL1280.jpg?v=1665635101"},"aspect_ratio":1.056,"height":1144,"media_type":"image","src":"\/\/myhomebody.com\/cdn\/shop\/products\/61Ho3c_KGYL._AC_SL1280.jpg?v=1665635101","width":1208},{"alt":null,"id":22673612668962,"position":2,"preview_image":{"aspect_ratio":1.047,"height":1167,"width":1222,"src":"\/\/myhomebody.com\/cdn\/shop\/products\/51x7CQQMiTL._AC_SL1280.jpg?v=1665635101"},"aspect_ratio":1.047,"height":1167,"media_type":"image","src":"\/\/myhomebody.com\/cdn\/shop\/products\/51x7CQQMiTL._AC_SL1280.jpg?v=1665635101","width":1222},{"alt":null,"id":22673612734498,"position":3,"preview_image":{"aspect_ratio":1.025,"height":1181,"width":1211,"src":"\/\/myhomebody.com\/cdn\/shop\/products\/61GVgX-GhZL._AC_SL1280.jpg?v=1665635101"},"aspect_ratio":1.025,"height":1181,"media_type":"image","src":"\/\/myhomebody.com\/cdn\/shop\/products\/61GVgX-GhZL._AC_SL1280.jpg?v=1665635101","width":1211},{"alt":null,"id":22673612800034,"position":4,"preview_image":{"aspect_ratio":1.0,"height":1280,"width":1280,"src":"\/\/myhomebody.com\/cdn\/shop\/products\/61p_3df0-5L._AC_SL1280_5d130ad8-dc4b-4535-9a35-f845eb5722ae.jpg?v=1665635101"},"aspect_ratio":1.0,"height":1280,"media_type":"image","src":"\/\/myhomebody.com\/cdn\/shop\/products\/61p_3df0-5L._AC_SL1280_5d130ad8-dc4b-4535-9a35-f845eb5722ae.jpg?v=1665635101","width":1280},{"alt":null,"id":22673612865570,"position":5,"preview_image":{"aspect_ratio":1.0,"height":1280,"width":1280,"src":"\/\/myhomebody.com\/cdn\/shop\/products\/719NL57VaUL._AC_SL1280_042e10a0-8db0-4e8f-9e76-d84a48bd7473.jpg?v=1665635101"},"aspect_ratio":1.0,"height":1280,"media_type":"image","src":"\/\/myhomebody.com\/cdn\/shop\/products\/719NL57VaUL._AC_SL1280_042e10a0-8db0-4e8f-9e76-d84a48bd7473.jpg?v=1665635101","width":1280},{"alt":null,"id":22673612898338,"position":6,"preview_image":{"aspect_ratio":1.0,"height":1280,"width":1280,"src":"\/\/myhomebody.com\/cdn\/shop\/products\/617oTAPkSzL._AC_SL1280_5fbf58cd-182c-4482-8b94-7f10cf5312d3.jpg?v=1665635101"},"aspect_ratio":1.0,"height":1280,"media_type":"image","src":"\/\/myhomebody.com\/cdn\/shop\/products\/617oTAPkSzL._AC_SL1280_5fbf58cd-182c-4482-8b94-7f10cf5312d3.jpg?v=1665635101","width":1280},{"alt":null,"id":22673612963874,"position":7,"preview_image":{"aspect_ratio":1.0,"height":1280,"width":1280,"src":"\/\/myhomebody.com\/cdn\/shop\/products\/614H0qvguqL._AC_SL1280_7e7299ce-f9e1-4846-be7c-8adcf8ce77aa.jpg?v=1665635101"},"aspect_ratio":1.0,"height":1280,"media_type":"image","src":"\/\/myhomebody.com\/cdn\/shop\/products\/614H0qvguqL._AC_SL1280_7e7299ce-f9e1-4846-be7c-8adcf8ce77aa.jpg?v=1665635101","width":1280},{"alt":null,"id":22673613029410,"position":8,"preview_image":{"aspect_ratio":1.024,"height":1250,"width":1280,"src":"\/\/myhomebody.com\/cdn\/shop\/products\/71zvlhueMLL._AC_SL1280_e59c2a68-3038-4bc1-b2f8-1d85dd0a9aad.jpg?v=1665635101"},"aspect_ratio":1.024,"height":1250,"media_type":"image","src":"\/\/myhomebody.com\/cdn\/shop\/products\/71zvlhueMLL._AC_SL1280_e59c2a68-3038-4bc1-b2f8-1d85dd0a9aad.jpg?v=1665635101","width":1280},{"alt":null,"id":22673613094946,"position":9,"preview_image":{"aspect_ratio":0.999,"height":1281,"width":1280,"src":"\/\/myhomebody.com\/cdn\/shop\/products\/71THA4IljlS._AC_SL1281_a49c90fc-f3c6-4b07-ba9d-48148f76a7e2.jpg?v=1665635101"},"aspect_ratio":0.999,"height":1281,"media_type":"image","src":"\/\/myhomebody.com\/cdn\/shop\/products\/71THA4IljlS._AC_SL1281_a49c90fc-f3c6-4b07-ba9d-48148f76a7e2.jpg?v=1665635101","width":1280}],"requires_selling_plan":false,"selling_plan_groups":[],"content":"\u003cul\u003e\n\u003cli\u003e✔️ Waterfall Design is A Self-draining System, Keep Your Bar Soap Dry, a great Soap Saver!\u003c\/li\u003e\n\u003cli\u003e✔️ Durable and Long-lasting! This Soap Dish is designed and made to last longer!\u003c\/li\u003e\n\u003cli\u003e✔️ Soap Dishes For Bathroom and Kitchen, Can Also Use As Sponge Tray.\u003c\/li\u003e\n\u003cli\u003e✔️ Made of High-Quality Silicone, More Resistant to Humidity and Mildew than other materials.\u003c\/li\u003e\n\u003cli\u003e✔️We Care about Your Satisfaction! myHomeBody wants to be a brand you trust! Buy with confidence knowing that If You're not Satisfied, We'll Make it Right - Reach Out to Us!\u003c\/li\u003e\n\u003c\/ul\u003e"}