Dual Textured Soft and Exfoliating Washcloth for Bath, Shower - 3 Pack
✔️Effective Exfoliation! Sweep Away Dead Skin Cells, Revealing Fresh New Glowing Skin ✔️Helps to Prevent Clogged Pores, Even Skin Tone and Boost Circulation
✔️ Durable Multi-Layer Construction = Better Quality Than Competitors! ✔️Feel the difference! High Quality Fabric + Professional Workmanship = A Better-Quality Washcloth!
✔️ Suitable for Bath & Shower Scrubbing and Exfoliating ✔️ Prepares Your Skin for After Shower Skin Care Regimen
✔️ Proprietary Material is an Exclusive Weave for a Smoother and More Comfortable Feeling on Skin! ✔️ Soft Layer: 80% Charcoal Fiber, 20% Polyester ✔️ Exfoliating Layer: 49% Polyester, 24% Nylon, 27% Charcoal Fiber
✔️We Care about Your Satisfaction! myHomeBody wants to be a brand you trust! Buy with confidence knowing that If You're not Satisfied, We'll Make it Right - Reach Out to Us!
The Best of Both Worlds!
Exfoliate
The Exfoliating side Gives you an invigorating scrub to sweep away dead skin cells and reveal fresh, glowing skin!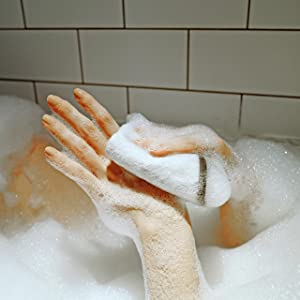 Caress
The Soft Side Gives Sensitive or already-exfoliated skin a sweet tender touch!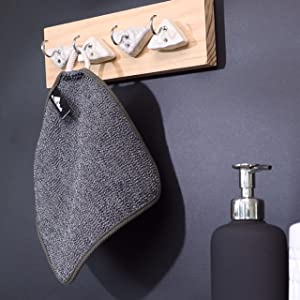 Hang to Dry!
Rinse them thoroughly, then wring them out and hang to dry in a well-ventilated space to dry completely for next time! Alternate cloths so You can always start with a dry one
{"id":6559266504738,"title":"Dual Textured Soft and Exfoliating Washcloth for Bath, Shower - 3 Pack","handle":"premium-dual-textured-soft-and-exfoliating-washcloth-loofah-body-exfoliation-luffa-wash-clothes-for-bath-shower-durable-construction-with-soft-fabric-and-activated-charcoal-infused-nylon-3-pack","description":"\u003cul\u003e\n\u003cli\u003e✔️Effective Exfoliation! Sweep Away Dead Skin Cells, Revealing Fresh New Glowing Skin ✔️Helps to Prevent Clogged Pores, Even Skin Tone and Boost Circulation\u003c\/li\u003e\n\u003cli\u003e✔️ Durable Multi-Layer Construction = Better Quality Than Competitors! ✔️Feel the difference! High Quality Fabric + Professional Workmanship = A Better-Quality Washcloth!\u003c\/li\u003e\n\u003cli\u003e✔️ Suitable for Bath \u0026amp; Shower Scrubbing and Exfoliating ✔️ Prepares Your Skin for After Shower Skin Care Regimen\u003c\/li\u003e\n\u003cli\u003e✔️ Proprietary Material is an Exclusive Weave for a Smoother and More Comfortable Feeling on Skin! ✔️ Soft Layer: 80% Charcoal Fiber, 20% Polyester ✔️ Exfoliating Layer: 49% Polyester, 24% Nylon, 27% Charcoal Fiber\u003c\/li\u003e\n\u003cli\u003e✔️We Care about Your Satisfaction! myHomeBody wants to be a brand you trust! Buy with confidence knowing that If You're not Satisfied, We'll Make it Right - Reach Out to Us!\u003c\/li\u003e\n\u003c\/ul\u003e","published_at":"2021-05-04T04:11:21-04:00","created_at":"2021-05-04T04:11:21-04:00","vendor":"myHomeBody","type":"Bath \u0026 Shower Accessories","tags":["bamboo fiber","bath","BATH SPONGE","bathroom","exfoliate","exfoliating washcloths","loofah","LOOFAH SPONGE","shower"],"price":1499,"price_min":1499,"price_max":1499,"available":false,"price_varies":false,"compare_at_price":1499,"compare_at_price_min":1499,"compare_at_price_max":1499,"compare_at_price_varies":false,"variants":[{"id":39332380868642,"title":"Gray","option1":"Gray","option2":null,"option3":null,"sku":"BPPC176-005","requires_shipping":true,"taxable":true,"featured_image":{"id":30316861784098,"product_id":6559266504738,"position":1,"created_at":"2022-10-13T00:26:14-04:00","updated_at":"2022-10-13T00:26:14-04:00","alt":null,"width":1245,"height":1252,"src":"\/\/myhomebody.com\/cdn\/shop\/products\/81vR1JjoexS._AC_SL1280.jpg?v=1665635174","variant_ids":[39332380868642]},"available":false,"name":"Dual Textured Soft and Exfoliating Washcloth for Bath, Shower - 3 Pack - Gray","public_title":"Gray","options":["Gray"],"price":1499,"weight":114,"compare_at_price":1499,"inventory_management":"shopify","barcode":"4710343024439","featured_media":{"alt":null,"id":22673618272290,"position":1,"preview_image":{"aspect_ratio":0.994,"height":1252,"width":1245,"src":"\/\/myhomebody.com\/cdn\/shop\/products\/81vR1JjoexS._AC_SL1280.jpg?v=1665635174"}},"requires_selling_plan":false,"selling_plan_allocations":[]},{"id":40558880260130,"title":"Ivory","option1":"Ivory","option2":null,"option3":null,"sku":"BPPC176-005-S2","requires_shipping":true,"taxable":true,"featured_image":{"id":30316861816866,"product_id":6559266504738,"position":2,"created_at":"2022-10-13T00:26:14-04:00","updated_at":"2022-10-13T00:26:14-04:00","alt":null,"width":1500,"height":1187,"src":"\/\/myhomebody.com\/cdn\/shop\/products\/61ODUeAPM8L._AC_SL1500_05d0de12-fcf3-4b70-aab7-ea44b5defbd6.jpg?v=1665635174","variant_ids":[40558880260130]},"available":false,"name":"Dual Textured Soft and Exfoliating Washcloth for Bath, Shower - 3 Pack - Ivory","public_title":"Ivory","options":["Ivory"],"price":1499,"weight":132,"compare_at_price":1499,"inventory_management":"shopify","barcode":null,"featured_media":{"alt":null,"id":22673618305058,"position":2,"preview_image":{"aspect_ratio":1.264,"height":1187,"width":1500,"src":"\/\/myhomebody.com\/cdn\/shop\/products\/61ODUeAPM8L._AC_SL1500_05d0de12-fcf3-4b70-aab7-ea44b5defbd6.jpg?v=1665635174"}},"requires_selling_plan":false,"selling_plan_allocations":[]},{"id":40558880292898,"title":"Smoke","option1":"Smoke","option2":null,"option3":null,"sku":"BPPC176-005-S1","requires_shipping":true,"taxable":true,"featured_image":{"id":30316861849634,"product_id":6559266504738,"position":3,"created_at":"2022-10-13T00:26:14-04:00","updated_at":"2022-10-13T00:26:14-04:00","alt":null,"width":1500,"height":1193,"src":"\/\/myhomebody.com\/cdn\/shop\/products\/81dajTTHVSL._AC_SL1500_b829bc12-8269-4190-a82d-68f731a8cb47.jpg?v=1665635174","variant_ids":[40558880292898]},"available":false,"name":"Dual Textured Soft and Exfoliating Washcloth for Bath, Shower - 3 Pack - Smoke","public_title":"Smoke","options":["Smoke"],"price":1499,"weight":132,"compare_at_price":1499,"inventory_management":"shopify","barcode":null,"featured_media":{"alt":null,"id":22673618337826,"position":3,"preview_image":{"aspect_ratio":1.257,"height":1193,"width":1500,"src":"\/\/myhomebody.com\/cdn\/shop\/products\/81dajTTHVSL._AC_SL1500_b829bc12-8269-4190-a82d-68f731a8cb47.jpg?v=1665635174"}},"requires_selling_plan":false,"selling_plan_allocations":[]}],"images":["\/\/myhomebody.com\/cdn\/shop\/products\/81vR1JjoexS._AC_SL1280.jpg?v=1665635174","\/\/myhomebody.com\/cdn\/shop\/products\/61ODUeAPM8L._AC_SL1500_05d0de12-fcf3-4b70-aab7-ea44b5defbd6.jpg?v=1665635174","\/\/myhomebody.com\/cdn\/shop\/products\/81dajTTHVSL._AC_SL1500_b829bc12-8269-4190-a82d-68f731a8cb47.jpg?v=1665635174","\/\/myhomebody.com\/cdn\/shop\/products\/81fM_QKRo5L._AC_SL1500_41e66700-d9d9-4ef3-a54d-fd57a2355c87.jpg?v=1665635174","\/\/myhomebody.com\/cdn\/shop\/products\/71zd1cE5ENL._AC_SL1500_36b160dd-4d78-40c9-a393-e7c029a43291.jpg?v=1665635174","\/\/myhomebody.com\/cdn\/shop\/products\/71wvj6ovHiL._AC_SL1500_e28574c7-1945-4826-ac2d-9f6b9d0907b8.jpg?v=1665635174","\/\/myhomebody.com\/cdn\/shop\/products\/81wI67fkVFL._AC_SL1500_5feafd60-92f8-44b3-978b-e2f2b30f8503.jpg?v=1665635174","\/\/myhomebody.com\/cdn\/shop\/products\/81QqauQ9SFL._AC_SL1500_04e8db44-6748-4a3d-b96d-95e477fae795.jpg?v=1665635174","\/\/myhomebody.com\/cdn\/shop\/products\/71mezwpUQ3S._AC_SL1281.jpg?v=1665635174"],"featured_image":"\/\/myhomebody.com\/cdn\/shop\/products\/81vR1JjoexS._AC_SL1280.jpg?v=1665635174","options":["Color"],"media":[{"alt":null,"id":22673618272290,"position":1,"preview_image":{"aspect_ratio":0.994,"height":1252,"width":1245,"src":"\/\/myhomebody.com\/cdn\/shop\/products\/81vR1JjoexS._AC_SL1280.jpg?v=1665635174"},"aspect_ratio":0.994,"height":1252,"media_type":"image","src":"\/\/myhomebody.com\/cdn\/shop\/products\/81vR1JjoexS._AC_SL1280.jpg?v=1665635174","width":1245},{"alt":null,"id":22673618305058,"position":2,"preview_image":{"aspect_ratio":1.264,"height":1187,"width":1500,"src":"\/\/myhomebody.com\/cdn\/shop\/products\/61ODUeAPM8L._AC_SL1500_05d0de12-fcf3-4b70-aab7-ea44b5defbd6.jpg?v=1665635174"},"aspect_ratio":1.264,"height":1187,"media_type":"image","src":"\/\/myhomebody.com\/cdn\/shop\/products\/61ODUeAPM8L._AC_SL1500_05d0de12-fcf3-4b70-aab7-ea44b5defbd6.jpg?v=1665635174","width":1500},{"alt":null,"id":22673618337826,"position":3,"preview_image":{"aspect_ratio":1.257,"height":1193,"width":1500,"src":"\/\/myhomebody.com\/cdn\/shop\/products\/81dajTTHVSL._AC_SL1500_b829bc12-8269-4190-a82d-68f731a8cb47.jpg?v=1665635174"},"aspect_ratio":1.257,"height":1193,"media_type":"image","src":"\/\/myhomebody.com\/cdn\/shop\/products\/81dajTTHVSL._AC_SL1500_b829bc12-8269-4190-a82d-68f731a8cb47.jpg?v=1665635174","width":1500},{"alt":null,"id":22673618370594,"position":4,"preview_image":{"aspect_ratio":1.0,"height":1500,"width":1500,"src":"\/\/myhomebody.com\/cdn\/shop\/products\/81fM_QKRo5L._AC_SL1500_41e66700-d9d9-4ef3-a54d-fd57a2355c87.jpg?v=1665635174"},"aspect_ratio":1.0,"height":1500,"media_type":"image","src":"\/\/myhomebody.com\/cdn\/shop\/products\/81fM_QKRo5L._AC_SL1500_41e66700-d9d9-4ef3-a54d-fd57a2355c87.jpg?v=1665635174","width":1500},{"alt":null,"id":22673618403362,"position":5,"preview_image":{"aspect_ratio":1.0,"height":1500,"width":1500,"src":"\/\/myhomebody.com\/cdn\/shop\/products\/71zd1cE5ENL._AC_SL1500_36b160dd-4d78-40c9-a393-e7c029a43291.jpg?v=1665635174"},"aspect_ratio":1.0,"height":1500,"media_type":"image","src":"\/\/myhomebody.com\/cdn\/shop\/products\/71zd1cE5ENL._AC_SL1500_36b160dd-4d78-40c9-a393-e7c029a43291.jpg?v=1665635174","width":1500},{"alt":null,"id":22673618436130,"position":6,"preview_image":{"aspect_ratio":1.0,"height":1500,"width":1500,"src":"\/\/myhomebody.com\/cdn\/shop\/products\/71wvj6ovHiL._AC_SL1500_e28574c7-1945-4826-ac2d-9f6b9d0907b8.jpg?v=1665635174"},"aspect_ratio":1.0,"height":1500,"media_type":"image","src":"\/\/myhomebody.com\/cdn\/shop\/products\/71wvj6ovHiL._AC_SL1500_e28574c7-1945-4826-ac2d-9f6b9d0907b8.jpg?v=1665635174","width":1500},{"alt":null,"id":22673618468898,"position":7,"preview_image":{"aspect_ratio":1.0,"height":1500,"width":1500,"src":"\/\/myhomebody.com\/cdn\/shop\/products\/81wI67fkVFL._AC_SL1500_5feafd60-92f8-44b3-978b-e2f2b30f8503.jpg?v=1665635174"},"aspect_ratio":1.0,"height":1500,"media_type":"image","src":"\/\/myhomebody.com\/cdn\/shop\/products\/81wI67fkVFL._AC_SL1500_5feafd60-92f8-44b3-978b-e2f2b30f8503.jpg?v=1665635174","width":1500},{"alt":null,"id":22673618501666,"position":8,"preview_image":{"aspect_ratio":1.0,"height":1500,"width":1500,"src":"\/\/myhomebody.com\/cdn\/shop\/products\/81QqauQ9SFL._AC_SL1500_04e8db44-6748-4a3d-b96d-95e477fae795.jpg?v=1665635174"},"aspect_ratio":1.0,"height":1500,"media_type":"image","src":"\/\/myhomebody.com\/cdn\/shop\/products\/81QqauQ9SFL._AC_SL1500_04e8db44-6748-4a3d-b96d-95e477fae795.jpg?v=1665635174","width":1500},{"alt":null,"id":22673618534434,"position":9,"preview_image":{"aspect_ratio":0.999,"height":1281,"width":1280,"src":"\/\/myhomebody.com\/cdn\/shop\/products\/71mezwpUQ3S._AC_SL1281.jpg?v=1665635174"},"aspect_ratio":0.999,"height":1281,"media_type":"image","src":"\/\/myhomebody.com\/cdn\/shop\/products\/71mezwpUQ3S._AC_SL1281.jpg?v=1665635174","width":1280}],"requires_selling_plan":false,"selling_plan_groups":[],"content":"\u003cul\u003e\n\u003cli\u003e✔️Effective Exfoliation! Sweep Away Dead Skin Cells, Revealing Fresh New Glowing Skin ✔️Helps to Prevent Clogged Pores, Even Skin Tone and Boost Circulation\u003c\/li\u003e\n\u003cli\u003e✔️ Durable Multi-Layer Construction = Better Quality Than Competitors! ✔️Feel the difference! High Quality Fabric + Professional Workmanship = A Better-Quality Washcloth!\u003c\/li\u003e\n\u003cli\u003e✔️ Suitable for Bath \u0026amp; Shower Scrubbing and Exfoliating ✔️ Prepares Your Skin for After Shower Skin Care Regimen\u003c\/li\u003e\n\u003cli\u003e✔️ Proprietary Material is an Exclusive Weave for a Smoother and More Comfortable Feeling on Skin! ✔️ Soft Layer: 80% Charcoal Fiber, 20% Polyester ✔️ Exfoliating Layer: 49% Polyester, 24% Nylon, 27% Charcoal Fiber\u003c\/li\u003e\n\u003cli\u003e✔️We Care about Your Satisfaction! myHomeBody wants to be a brand you trust! Buy with confidence knowing that If You're not Satisfied, We'll Make it Right - Reach Out to Us!\u003c\/li\u003e\n\u003c\/ul\u003e"}