myHomeBody Ultra-Soft Charcoal Fiber Hand Drying Towels for Bathroom and Kitchen
✔️ Luxuriously Soft & Gentle on Hands! myHomeBody Kitchen, Bathroom Towels Absorb Water like a Champ! ✔️Made for Hanging! Designed to Hang from center button to give you more luxurious touchable, squeezable surface area! ✔️Comes with 2 Sizes of Cotton Loop to Suit Your Needs!
✔️Suits Any Décor! Understated Design - Grey Hand Towels with Subtle, Neutral Trim Colors. ✔️Easy Care! Just toss then in the wash for easy cleaning! Hang to dry or tumble dry on low to medium heat.
✔️Versatile! Suitable as a bathroom towel set or kitchen towels set, can be used in the kitchen, guest bath, even wiping down tables and countertops after washing - even fills in as a Golf towel in a pinch!
✔️High Quality Materials and Stitching! ✔️Made from charcoal fiber, with cotton trim and coconut shell button. SIZE: 20" (diameter)
✔️We Care about Your Satisfaction! myHomeBody wants to be a brand you trust! Buy with confidence knowing that If You're not Satisfied, We'll Make it Right - Reach Out to Us!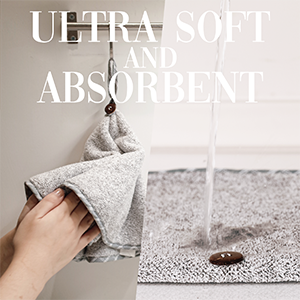 myHomeBody Ultra Soft and Absorbent Charcoal Fiber Hanging Hand Towels
Welcome to soft, absorbent luxury for your hands!
Perfect House Guests!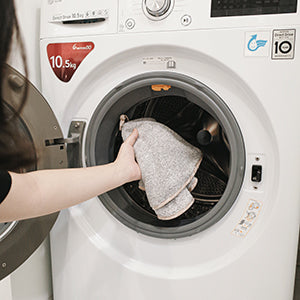 Perfect House Guests!
Just toss us in the wash, hang us up or tumble us dry, we're pretty easy going - just not too hot please!
Love to Hang Out
Hang 'em high, hang 'em low, two strap styles and lengths give you lots of options!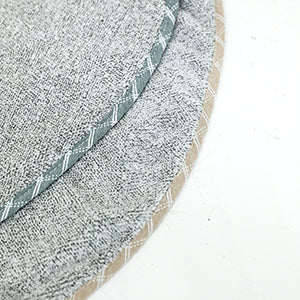 Fits in At Any Party
The neutral colors and subtle, elegant piping with high quality stitching ensure these hand towels will be a welcome addition to any room!
{"id":4554552508534,"title":"myHomeBody Ultra-Soft Charcoal Fiber Hand Drying Towels for Bathroom and Kitchen","handle":"hand-towels-for-kitchen-soft-absorbent-bamboo-fiber-bathroom-hand-towels-kitchen-towels-with-hanging-loop-round-hand-towels-with-coconut-shell-button-for-hanging-set-of-2-gray-towels","description":"\u003cul\u003e\n\u003cli\u003e✔️ Luxuriously Soft \u0026amp; Gentle on Hands! myHomeBody Kitchen, Bathroom Towels Absorb Water like a Champ! ✔️Made for Hanging! Designed to Hang from center button to give you more luxurious touchable, squeezable surface area! ✔️Comes with 2 Sizes of Cotton Loop to Suit Your Needs!\u003c\/li\u003e\n\u003cli\u003e✔️Suits Any Décor! Understated Design - Grey Hand Towels with Subtle, Neutral Trim Colors. ✔️Easy Care! Just toss then in the wash for easy cleaning! Hang to dry or tumble dry on low to medium heat.\u003c\/li\u003e\n\u003cli\u003e✔️Versatile! Suitable as a bathroom towel set or kitchen towels set, can be used in the kitchen, guest bath, even wiping down tables and countertops after washing - even fills in as a Golf towel in a pinch!\u003c\/li\u003e\n\u003cli\u003e✔️High Quality Materials and Stitching! ✔️Made from charcoal fiber, with cotton trim and coconut shell button. SIZE: 20\" (diameter)\u003c\/li\u003e\n\u003cli\u003e✔️We Care about Your Satisfaction! myHomeBody wants to be a brand you trust! Buy with confidence knowing that If You're not Satisfied, We'll Make it Right - Reach Out to Us!\u003c\/li\u003e\n\u003c\/ul\u003e","published_at":"2020-08-04T23:35:56-04:00","created_at":"2020-08-04T23:35:56-04:00","vendor":"myHomeBody","type":"Kitchen","tags":["bamboo","bathroom","dish towels","hand towels","kitchen","kitchen towels","towels"],"price":1499,"price_min":1499,"price_max":1499,"available":false,"price_varies":false,"compare_at_price":1499,"compare_at_price_min":1499,"compare_at_price_max":1499,"compare_at_price_varies":false,"variants":[{"id":31965495853174,"title":"Charcoal Fiber \/ Gray","option1":"Charcoal Fiber","option2":"Gray","option3":null,"sku":"HKKD362-002","requires_shipping":true,"taxable":true,"featured_image":{"id":30316858408994,"product_id":4554552508534,"position":1,"created_at":"2022-10-13T00:25:29-04:00","updated_at":"2022-10-13T00:25:29-04:00","alt":null,"width":1500,"height":1410,"src":"\/\/myhomebody.com\/cdn\/shop\/products\/91EP2pcYF7L._AC_SL1500.jpg?v=1665635129","variant_ids":[31965495853174]},"available":false,"name":"myHomeBody Ultra-Soft Charcoal Fiber Hand Drying Towels for Bathroom and Kitchen - Charcoal Fiber \/ Gray","public_title":"Charcoal Fiber \/ Gray","options":["Charcoal Fiber","Gray"],"price":1499,"weight":204,"compare_at_price":1499,"inventory_management":"shopify","barcode":"4710343024262","featured_media":{"alt":null,"id":22673614897186,"position":1,"preview_image":{"aspect_ratio":1.064,"height":1410,"width":1500,"src":"\/\/myhomebody.com\/cdn\/shop\/products\/91EP2pcYF7L._AC_SL1500.jpg?v=1665635129"}},"requires_selling_plan":false,"selling_plan_allocations":[]},{"id":33090782593058,"title":"Charcoal Fiber \/ Brick","option1":"Charcoal Fiber","option2":"Brick","option3":null,"sku":"HKKD362-003","requires_shipping":true,"taxable":true,"featured_image":{"id":30316858441762,"product_id":4554552508534,"position":2,"created_at":"2022-10-13T00:25:29-04:00","updated_at":"2022-10-13T00:25:29-04:00","alt":null,"width":1500,"height":1410,"src":"\/\/myhomebody.com\/cdn\/shop\/products\/91UHmzxKjxL._AC_SL1500.jpg?v=1665635129","variant_ids":[33090782593058]},"available":false,"name":"myHomeBody Ultra-Soft Charcoal Fiber Hand Drying Towels for Bathroom and Kitchen - Charcoal Fiber \/ Brick","public_title":"Charcoal Fiber \/ Brick","options":["Charcoal Fiber","Brick"],"price":1499,"weight":195,"compare_at_price":1499,"inventory_management":"shopify","barcode":"4710343024378","featured_media":{"alt":null,"id":22673614929954,"position":2,"preview_image":{"aspect_ratio":1.064,"height":1410,"width":1500,"src":"\/\/myhomebody.com\/cdn\/shop\/products\/91UHmzxKjxL._AC_SL1500.jpg?v=1665635129"}},"requires_selling_plan":false,"selling_plan_allocations":[]},{"id":33090782560290,"title":"Charcoal Fiber \/ Pine","option1":"Charcoal Fiber","option2":"Pine","option3":null,"sku":"HKKD362-004","requires_shipping":true,"taxable":true,"featured_image":{"id":30316858474530,"product_id":4554552508534,"position":3,"created_at":"2022-10-13T00:25:29-04:00","updated_at":"2022-10-13T00:25:29-04:00","alt":null,"width":1500,"height":1393,"src":"\/\/myhomebody.com\/cdn\/shop\/products\/81NoKi9dwaL._AC_SL1500_c31f3f16-46eb-44ad-b8ea-05f3610c2966.jpg?v=1665635129","variant_ids":[33090782560290]},"available":false,"name":"myHomeBody Ultra-Soft Charcoal Fiber Hand Drying Towels for Bathroom and Kitchen - Charcoal Fiber \/ Pine","public_title":"Charcoal Fiber \/ Pine","options":["Charcoal Fiber","Pine"],"price":1499,"weight":195,"compare_at_price":1499,"inventory_management":"shopify","barcode":"4710343024385","featured_media":{"alt":null,"id":22673614962722,"position":3,"preview_image":{"aspect_ratio":1.077,"height":1393,"width":1500,"src":"\/\/myhomebody.com\/cdn\/shop\/products\/81NoKi9dwaL._AC_SL1500_c31f3f16-46eb-44ad-b8ea-05f3610c2966.jpg?v=1665635129"}},"requires_selling_plan":false,"selling_plan_allocations":[]},{"id":40548830052386,"title":"Charcoal Fiber \/ Midnight Blue","option1":"Charcoal Fiber","option2":"Midnight Blue","option3":null,"sku":"HKKD362-005","requires_shipping":true,"taxable":true,"featured_image":{"id":30316858507298,"product_id":4554552508534,"position":4,"created_at":"2022-10-13T00:25:29-04:00","updated_at":"2022-10-13T00:25:29-04:00","alt":null,"width":1500,"height":1429,"src":"\/\/myhomebody.com\/cdn\/shop\/products\/81sAKh-INaL._AC_SL1500_084821b6-07bd-4f9e-a11f-a5b3b44d4ed0.jpg?v=1665635129","variant_ids":[40548830052386]},"available":false,"name":"myHomeBody Ultra-Soft Charcoal Fiber Hand Drying Towels for Bathroom and Kitchen - Charcoal Fiber \/ Midnight Blue","public_title":"Charcoal Fiber \/ Midnight Blue","options":["Charcoal Fiber","Midnight Blue"],"price":1499,"weight":200,"compare_at_price":1499,"inventory_management":"shopify","barcode":null,"featured_media":{"alt":null,"id":22673614995490,"position":4,"preview_image":{"aspect_ratio":1.05,"height":1429,"width":1500,"src":"\/\/myhomebody.com\/cdn\/shop\/products\/81sAKh-INaL._AC_SL1500_084821b6-07bd-4f9e-a11f-a5b3b44d4ed0.jpg?v=1665635129"}},"requires_selling_plan":false,"selling_plan_allocations":[]}],"images":["\/\/myhomebody.com\/cdn\/shop\/products\/91EP2pcYF7L._AC_SL1500.jpg?v=1665635129","\/\/myhomebody.com\/cdn\/shop\/products\/91UHmzxKjxL._AC_SL1500.jpg?v=1665635129","\/\/myhomebody.com\/cdn\/shop\/products\/81NoKi9dwaL._AC_SL1500_c31f3f16-46eb-44ad-b8ea-05f3610c2966.jpg?v=1665635129","\/\/myhomebody.com\/cdn\/shop\/products\/81sAKh-INaL._AC_SL1500_084821b6-07bd-4f9e-a11f-a5b3b44d4ed0.jpg?v=1665635129","\/\/myhomebody.com\/cdn\/shop\/products\/81p23S5rS4L._AC_SL1500_a1e4bb44-bf1a-4aa2-8cc0-8116e9df79ae.jpg?v=1665635129","\/\/myhomebody.com\/cdn\/shop\/products\/91L3giByiiL._AC_SL1500_0e87510f-0ef7-45dc-9d01-4e8dfcd43275.jpg?v=1665635129","\/\/myhomebody.com\/cdn\/shop\/products\/81bc5DDNyBL._AC_SL1500_84045385-6825-44e7-be1b-649a72509201.jpg?v=1665635129","\/\/myhomebody.com\/cdn\/shop\/products\/A1_EBXt-lkL._AC_SL1500_c08c6d92-c883-4b9b-aa05-6582bf1d96c0.jpg?v=1665635129","\/\/myhomebody.com\/cdn\/shop\/products\/81_fAt7ZV4L._AC_SL1500_1c48f17b-d3cd-48a5-9ec9-118ca9cf3c1f.jpg?v=1665635129","\/\/myhomebody.com\/cdn\/shop\/products\/71mezwpUQ3S._AC_SL1281_2063f129-6396-474e-bde6-92896d481b76.jpg?v=1665635129"],"featured_image":"\/\/myhomebody.com\/cdn\/shop\/products\/91EP2pcYF7L._AC_SL1500.jpg?v=1665635129","options":["Material type","Color"],"media":[{"alt":null,"id":22673614897186,"position":1,"preview_image":{"aspect_ratio":1.064,"height":1410,"width":1500,"src":"\/\/myhomebody.com\/cdn\/shop\/products\/91EP2pcYF7L._AC_SL1500.jpg?v=1665635129"},"aspect_ratio":1.064,"height":1410,"media_type":"image","src":"\/\/myhomebody.com\/cdn\/shop\/products\/91EP2pcYF7L._AC_SL1500.jpg?v=1665635129","width":1500},{"alt":null,"id":22673614929954,"position":2,"preview_image":{"aspect_ratio":1.064,"height":1410,"width":1500,"src":"\/\/myhomebody.com\/cdn\/shop\/products\/91UHmzxKjxL._AC_SL1500.jpg?v=1665635129"},"aspect_ratio":1.064,"height":1410,"media_type":"image","src":"\/\/myhomebody.com\/cdn\/shop\/products\/91UHmzxKjxL._AC_SL1500.jpg?v=1665635129","width":1500},{"alt":null,"id":22673614962722,"position":3,"preview_image":{"aspect_ratio":1.077,"height":1393,"width":1500,"src":"\/\/myhomebody.com\/cdn\/shop\/products\/81NoKi9dwaL._AC_SL1500_c31f3f16-46eb-44ad-b8ea-05f3610c2966.jpg?v=1665635129"},"aspect_ratio":1.077,"height":1393,"media_type":"image","src":"\/\/myhomebody.com\/cdn\/shop\/products\/81NoKi9dwaL._AC_SL1500_c31f3f16-46eb-44ad-b8ea-05f3610c2966.jpg?v=1665635129","width":1500},{"alt":null,"id":22673614995490,"position":4,"preview_image":{"aspect_ratio":1.05,"height":1429,"width":1500,"src":"\/\/myhomebody.com\/cdn\/shop\/products\/81sAKh-INaL._AC_SL1500_084821b6-07bd-4f9e-a11f-a5b3b44d4ed0.jpg?v=1665635129"},"aspect_ratio":1.05,"height":1429,"media_type":"image","src":"\/\/myhomebody.com\/cdn\/shop\/products\/81sAKh-INaL._AC_SL1500_084821b6-07bd-4f9e-a11f-a5b3b44d4ed0.jpg?v=1665635129","width":1500},{"alt":null,"id":22673615028258,"position":5,"preview_image":{"aspect_ratio":1.0,"height":1500,"width":1500,"src":"\/\/myhomebody.com\/cdn\/shop\/products\/81p23S5rS4L._AC_SL1500_a1e4bb44-bf1a-4aa2-8cc0-8116e9df79ae.jpg?v=1665635129"},"aspect_ratio":1.0,"height":1500,"media_type":"image","src":"\/\/myhomebody.com\/cdn\/shop\/products\/81p23S5rS4L._AC_SL1500_a1e4bb44-bf1a-4aa2-8cc0-8116e9df79ae.jpg?v=1665635129","width":1500},{"alt":null,"id":22673615061026,"position":6,"preview_image":{"aspect_ratio":1.0,"height":1500,"width":1500,"src":"\/\/myhomebody.com\/cdn\/shop\/products\/91L3giByiiL._AC_SL1500_0e87510f-0ef7-45dc-9d01-4e8dfcd43275.jpg?v=1665635129"},"aspect_ratio":1.0,"height":1500,"media_type":"image","src":"\/\/myhomebody.com\/cdn\/shop\/products\/91L3giByiiL._AC_SL1500_0e87510f-0ef7-45dc-9d01-4e8dfcd43275.jpg?v=1665635129","width":1500},{"alt":null,"id":22673615093794,"position":7,"preview_image":{"aspect_ratio":1.0,"height":1500,"width":1500,"src":"\/\/myhomebody.com\/cdn\/shop\/products\/81bc5DDNyBL._AC_SL1500_84045385-6825-44e7-be1b-649a72509201.jpg?v=1665635129"},"aspect_ratio":1.0,"height":1500,"media_type":"image","src":"\/\/myhomebody.com\/cdn\/shop\/products\/81bc5DDNyBL._AC_SL1500_84045385-6825-44e7-be1b-649a72509201.jpg?v=1665635129","width":1500},{"alt":null,"id":22673615126562,"position":8,"preview_image":{"aspect_ratio":1.0,"height":1500,"width":1500,"src":"\/\/myhomebody.com\/cdn\/shop\/products\/A1_EBXt-lkL._AC_SL1500_c08c6d92-c883-4b9b-aa05-6582bf1d96c0.jpg?v=1665635129"},"aspect_ratio":1.0,"height":1500,"media_type":"image","src":"\/\/myhomebody.com\/cdn\/shop\/products\/A1_EBXt-lkL._AC_SL1500_c08c6d92-c883-4b9b-aa05-6582bf1d96c0.jpg?v=1665635129","width":1500},{"alt":null,"id":22673615159330,"position":9,"preview_image":{"aspect_ratio":1.0,"height":1500,"width":1500,"src":"\/\/myhomebody.com\/cdn\/shop\/products\/81_fAt7ZV4L._AC_SL1500_1c48f17b-d3cd-48a5-9ec9-118ca9cf3c1f.jpg?v=1665635129"},"aspect_ratio":1.0,"height":1500,"media_type":"image","src":"\/\/myhomebody.com\/cdn\/shop\/products\/81_fAt7ZV4L._AC_SL1500_1c48f17b-d3cd-48a5-9ec9-118ca9cf3c1f.jpg?v=1665635129","width":1500},{"alt":null,"id":22673615192098,"position":10,"preview_image":{"aspect_ratio":0.999,"height":1281,"width":1280,"src":"\/\/myhomebody.com\/cdn\/shop\/products\/71mezwpUQ3S._AC_SL1281_2063f129-6396-474e-bde6-92896d481b76.jpg?v=1665635129"},"aspect_ratio":0.999,"height":1281,"media_type":"image","src":"\/\/myhomebody.com\/cdn\/shop\/products\/71mezwpUQ3S._AC_SL1281_2063f129-6396-474e-bde6-92896d481b76.jpg?v=1665635129","width":1280}],"requires_selling_plan":false,"selling_plan_groups":[],"content":"\u003cul\u003e\n\u003cli\u003e✔️ Luxuriously Soft \u0026amp; Gentle on Hands! myHomeBody Kitchen, Bathroom Towels Absorb Water like a Champ! ✔️Made for Hanging! Designed to Hang from center button to give you more luxurious touchable, squeezable surface area! ✔️Comes with 2 Sizes of Cotton Loop to Suit Your Needs!\u003c\/li\u003e\n\u003cli\u003e✔️Suits Any Décor! Understated Design - Grey Hand Towels with Subtle, Neutral Trim Colors. ✔️Easy Care! Just toss then in the wash for easy cleaning! Hang to dry or tumble dry on low to medium heat.\u003c\/li\u003e\n\u003cli\u003e✔️Versatile! Suitable as a bathroom towel set or kitchen towels set, can be used in the kitchen, guest bath, even wiping down tables and countertops after washing - even fills in as a Golf towel in a pinch!\u003c\/li\u003e\n\u003cli\u003e✔️High Quality Materials and Stitching! ✔️Made from charcoal fiber, with cotton trim and coconut shell button. SIZE: 20\" (diameter)\u003c\/li\u003e\n\u003cli\u003e✔️We Care about Your Satisfaction! myHomeBody wants to be a brand you trust! Buy with confidence knowing that If You're not Satisfied, We'll Make it Right - Reach Out to Us!\u003c\/li\u003e\n\u003c\/ul\u003e"}